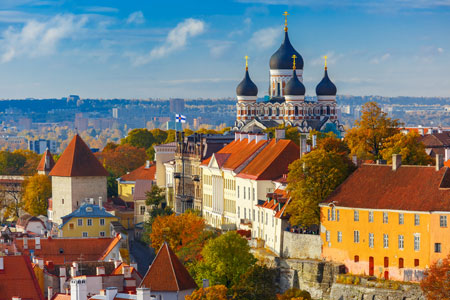 Formerly part of the Soviet Union, Estonia borders the Baltic Sea and Gulf of Finland and boasts more than 1,500 islands. Its diverse terrain features rugged beaches, primeval forests and wetlands and a wealth of stunning lakes. Add to this a healthy smattering of castles, churches and hilltop fortresses, and it's easy to see why an Estonian cruise is something special. [ReadMoreMob]
Estonia's jewel in the crown has to be its medieval capital, Tallinn, known for its well-preserved, UNESCO-listed Old Town, museums and the 314m-high Tallinn TV Tower and observation deck. Hours can be passed happily marvelling at its grand architecture, narrow cobbled streets and 15th century churches. The fantastic shopping scene, vibrant café culture and stylish clubs and restaurants are also of note.
An Estonian cruise could also offer a glimpse of Saaremaa Island (Estonia's largest), famous for its windmills, black rye bread and strong beer. The famous rye bread is everywhere, as is pork, veal, potatoes and fish: most tastes are catered for through the nation's cuisine. [ReadMoreDesk]
Estonia is one of the least populated countries in Europe, and has many secrets just waiting to be uncovered. The country has a newfound confidence, having shaken off the shackles of the Soviet Union, and is now one of Europe's most interesting destinations.
Cruises to Estonia
Departs: Southampton • Mon 01 Jun 2020
13 nights • Braemar • M2014
Visiting five diverse cities in five different countries aboard Braemar, including three magnificent Baltic capitals, you'll experience cultural discovery at its finest on this enriching 13-night adventure.
You can delight in Copenhagen's palaces, monuments and beautiful waterfront; indulge in an authentic Finnish sauna experience in Helsinki; and delve into Tallinn's fairytale-esque Old Town.
Elsewhere, savour world-famous sights and an unforgettable night at the Russian ballet in St Petersburg; and in Germany, visit charming Travemünde before sailing the size-restricted Kiel Canal.
From £1,799pp
Fares Explained
|
What's Included
Departs: Dover • Tue 29 Sep 2020
12 nights • Boudicca • D2024
Explore the Baltic when it's less crowded but no less rewarding, for a chance to experience the region's genuine essence and greatest attractions at your own pace, with fewer tourists around.
Enjoy a leisurely and relaxing exploration St Petersburg, with ample time to take in the city's spectacular palaces, cathedrals and museums by day, before perhaps spending a magical evening at the Russian ballet.
Your rewarding journey also takes you to UNESCO-listed Tallinn, with its fairytale-esque Old Town, castles and merchants houses; as well the attraction-packed Scandinavian cities of Gothenburg and Copenhagen.
From £1,699pp
Fares Explained
|
What's Included
Departs: Newcastle • Thu 13 May 2021
14 nights • Balmoral • L2114
Combining visits to intoxicating destinations, including five capital cities, with spellbinding scenic cruising, this classic Baltic exploration will have you captivated from the moment you set sail.
Revel in the artistic, historic and cultural attractions of three Scandinavian capitals – Copenhagen, Oslo and Stockholm; and experience unforgettable navigations of the sprawling Stockholm archipelago.
You're sure to be left spellbound by the enchanting old towns of Riga and Tallinn, as well spectacular palaces, grandiose churches, iconic landmarks and quintessential Russian ballet in St Petersburg.
From £1,999pp
Fares Explained
|
What's Included