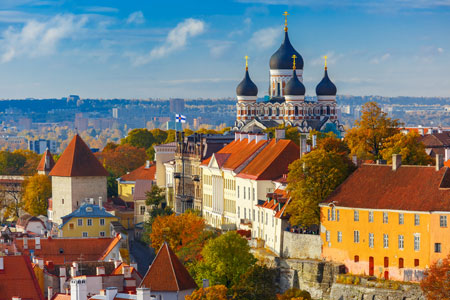 Formerly part of the Soviet Union, Estonia borders the Baltic Sea and Gulf of Finland and boasts more than 1,500 islands. Its diverse terrain features rugged beaches, primeval forests and wetlands and a wealth of stunning lakes. Add to this a healthy smattering of castles, churches and hilltop fortresses, and it's easy to see why an Estonian cruise is something special. [ReadMoreMob]
Estonia's jewel in the crown has to be its medieval capital, Tallinn, known for its well-preserved, UNESCO-listed Old Town, museums and the 314m-high Tallinn TV Tower and observation deck. Hours can be passed happily marvelling at its grand architecture, narrow cobbled streets and 15th century churches. The fantastic shopping scene, vibrant café culture and stylish clubs and restaurants are also of note.
An Estonian cruise could also offer a glimpse of Saaremaa Island (Estonia's largest), famous for its windmills, black rye bread and strong beer. The famous rye bread is everywhere, as is pork, veal, potatoes and fish: most tastes are catered for through the nation's cuisine. [ReadMoreDesk]
Estonia is one of the least populated countries in Europe, and has many secrets just waiting to be uncovered. The country has a newfound confidence, having shaken off the shackles of the Soviet Union, and is now one of Europe's most interesting destinations.