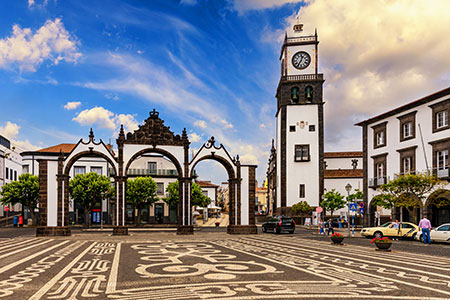 Cruise around the Azores
Embark on an incredible journey on our small ship cruises to the Azores, allowing touring the islands more accessible than ever before. Cruise to the Azores and Madeira from Southampton, Liverpool and even Rosyth. Experience the unique blend of Portuguese and Azorean cultures while enjoying the comfort of your cruise ship, and discover the beauty of the Atlantic Ocean and beyond.[ReadMoreDesk][ReadMoreMob]
Explore Historic Islands
The remote archipelago of the Azores offers a host of exceptionally diverse, emerald-green islands with volcanic scenery, beautiful lakes and majestic mountains. Once a stopping point for transatlantic flying boats, these islands are rich in history too. The Azores contains two of Portugal's 15 UNESCO World Heritage sites: the vineyards of Pico and the old town of Angra do Heroismo. The islands have embraced their role as a world-class example of sustainable tourism, and the local government has helped create a network of natural parks and marine reserves to safeguard the unspoiled environment. Once docked at the Azores cruise port, explore the landscapes wonderland of bubbling mud pots, bewildering geology and historic towns. The region is a haven for whale watching, sailing, diving, surfing and hiking – discover its treasures on horseback, bikes or hiking trails.
Discover more about island Life
Azores cruises reveal marvellous, unspoilt volcanic treasures Horta and Praia de Vitória. Ponta Delgada, located on São Miguel Island, offers a unique blend of old-world charm and modern-day touches with cobblestone streets, historic architecture, bustling markets, a marina and waterside cafés, all in the shadow of the extinct Sete Cidades Volcano.