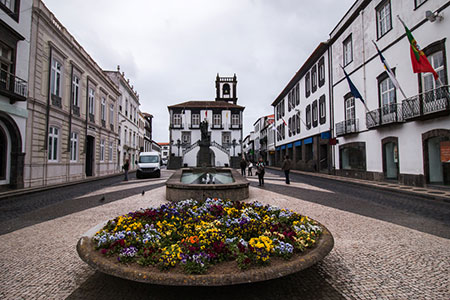 The remote archipelago of the Azores offers a host of exceptionally-diverse, emerald-green islands with stunning volcanic scenery, beautiful lakes and majestic mountains. Once a stopping point for transatlantic flying boats, these islands aren't just incredibly scenic, but rich in history too. [ReadMoreMob]
The Azores contains two of Portugal's 15 UNESCO World Heritage sites: the vineyards of Pico and the old town of Angra do Heroismo and the Flores biosphere are two fabulous examples. Additionally, the local government has helped create a network of natural parks and marine reserves to safeguard the unspoiled environment.
The landscape itself is a wonderland of bubbling mud pots, bewildering geology and historic towns. The region is a haven for whale watching, sailing, diving, surfing and hiking – its treasures can also be discovered on horseback, bikes, via beauitful hiking trails or, for the adventurous, from the air on a paraglider tour. [ReadMoreDesk]
Pretty Faial Island is home to Horta, a marvellous, unspoilt volcanic treasure, while the once heavily fortified Praia da Vitória, located on the isle of Terceira, is a vibrant pleasure. The abundance of colourful flowers flourishing in the region's temperate climate has to be seen to be believed on Lajes das Flores, the westernmost island of the Azores, and Ponta Delgada – located on São Miguel Island – has cobbled streets and squares, a modern marina and waterside cafés, all in the shadow of the extinct Sete Cidades Volcano.
Cruises have made the islands more accessible than ever before, and the Azores has embraced its role a world-class example of sustainable tourism.
Top Experiences
Ponta Delgada, Portugal
Sete Cidades Crater Lakes
These exquisite lakes are one body of water occupying two craters, separated just enough that their waters are distinct colours: green and blue. One of the 7 Natural Wonders of Portugal, the lakes are surrounded by lush forest for a truly magical scene.