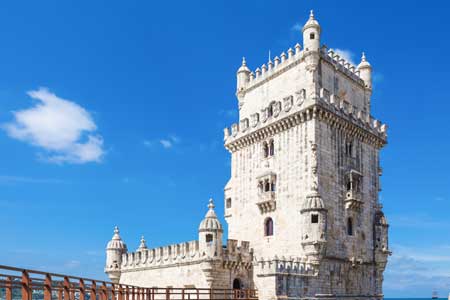 Portugal has so much more going for it than just golf and stunning beaches. Granted, they are 2 of the features that bring cruise guests back again and again, but it offers a lot more than just that. Yes, it does have some of Europe's finest beaches (such as Cascasi and Sagres) but it is also teaming with traditional villages, vibrant cities and its countryside is full of historic treasures. [ReadMoreMob]
Its capital, Lisbon, is set on a hillside and slopes down to the River Tagus. Cool and cosmopolitan, it blends the modern with the traditional with a bustling café culture and some of the friendliest locals you'll find anywhere.Porto is in the north-west of Portugal and, as well as being a favourite pilgrimage for port wine lovers, boasts a stunning historic old city centre that is a UNESCO World Heritage Site.
Of course, a cruise holiday to Portugal can take you to the famous Algarve with its golf courses and beaches offering total relaxation or adrenaline-powered water sports if you prefer.Whatever your preference, a cruise to Portugal will leave you wanting to come back for more.
Top Experiences
Funchal, Madeira, Portugal
Cabo Girão
Cabo Girão is one of the highest sea cliffs in the world, standing at a height of 580 metres (1,900 feet) above sea level. This area along the southern coast is popular for its magnificent panoramas, and in 2012, a skywalk (glass-floored viewing platform) was installed here, jutting out over the cliffs and offering visitors the opportunity to view the cliff face directly beneath their feet.
Horta, Portugal
Capelinhos Volcano
Capelinhos is Faial's most famous landmark, situated on the western side of the island. The volcano transformed the island between the years of 1957 and 1958 when it erupted with devastating consequences, burying the landscape. The Interpretive Centre at the site depicts the story of the volcanic eruption, and features information on the geological history of the Azores.