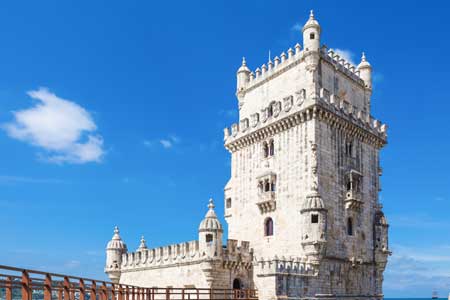 Discover a Portugal Cruise
Portugal has so much more going for it than just golf and stunning beaches. Granted, they are 2 of the features that bring cruise guests back again and again, but it offers a lot more than just that. Yes, it does have some of Europe's finest beaches (such as Cascasi and Sagres) but it is also teaming with traditional villages, vibrant cities and its countryside is full of historic treasures. [ReadMoreMob] [ReadMoreDesk]
Explore Lisbon
Its capital, Lisbon, is set on a hillside and slopes down to the River Tagus. Cool and cosmopolitan, it blends the modern with the traditional with a bustling café culture and some of the friendliest locals you'll find anywhere. Porto is in the north-west of Portugal and, as well as being a favourite pilgrimage for port wine lovers, boasts a stunning historic old city centre that is a UNESCO World Heritage Site.
Things to do in Portugal
Of course, a cruise holiday to Portugal can take you to the famous Algarve with its golf courses and beaches offering total relaxation or adrenaline-powered water sports if you prefer.Whatever your preference, a cruise to Portugal will leave you wanting to come back for more.
Top Experiences
Funchal, Madeira, Portugal
Cabo Girão
Cabo Girão is one of the highest sea cliffs in the world, standing at a height of 580 metres above sea level. A suspended glass-floored viewing platform named the Skywalk juts out over the cliffs, affording magnificent views from an exhilarating perspective.
Botanical Gardens
Madeira is renowned for its gardens, which thrive thanks to a balmy climate. Monte Palace Tropical Garden is considered the most beautiful on the island. It's home to a huge variety of exotic plants, including one of the world's largest collections of cycads.
Madeiran wine
Madeira has a long winemaking history dating back to the Age of Exploration. Fortified wines are produced in a variety of styles ranging from dry wines – which can be enjoyed on their own as an aperitif – to sweet wines, often paired with desserts.
Horta, Portugal
Capelinhos Volcano
Capelinhos is Faial's most famous landmark, situated on the western side of the island. The volcano transformed the island between the years of 1957 and 1958 when it erupted with devastating consequences, burying the landscape. The Interpretive Centre at the site depicts the story of the volcanic eruption, and features information on the geological history of the Azores.
Leixões (for Oporto), Portugal
Port Wine & Rabelo Boat
On the other bank of the Douro River is Vila Nova de Gaia, home to many reputable port wine cellars. Vila Nova de Gaia can be reached via rabelo boat, the traditional wooden cargo boat that's been used to transport port wine on the Douro for centuries.
Historic Centre of Oporto
Oporto's historic centre is filled with impressive monuments and public buildings, including the Romanesque Cathedral and the Portuguese Manueline-style Church of Santa Clara. It's been inscribed on the UNESCO World Heritage list since 1996.
Ponta Delgada, Portugal
Sete Cidades Crater Lakes
These exquisite lakes are one body of water occupying two craters, separated just enough that their waters are distinct colours: green and blue. One of the 7 Natural Wonders of Portugal, the lakes are surrounded by lush forest for a truly magical scene.