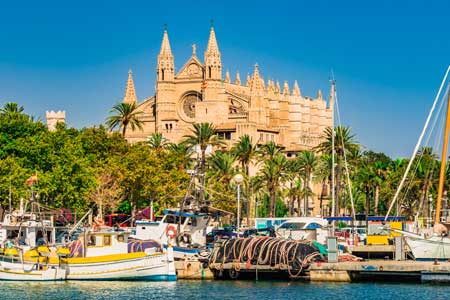 Spain is not just about football, bullfighters and flamenco. Granted, they are part of what makes Spain so special, but as a country it has far more to offer. Whether your cruise to Spain takes you to the mainland and places such as Alicante, Barcelona and Valencia or to one of its islands, you will enjoy sun by the bucket load, a fascinating culture and lashings of delicious food such as tapas, paella, not to mention the local wines. [ReadMoreMob]
You'll be hard pushed to find a country with quite so many stunning beaches making lazing around in the sun a must – it would rude not to.
The Canary Islands offer a very concentrated look at Spanish life, but if you really want to get away from it all, a cruise to El Hierro will take you to one of the most unspoilt and un-touristy parts of Spain.A cruise to Spain is like opening a treasure chest. As you dig down you'll discover a wealth of sights and sounds that will keep you coming back for more.
Top Experiences
Alicante, Spain
Palm Tree Forest
The city of Elche is UNESCO-listed on two counts, one of which is for being home to Europe's largest palm groves, which were thought to be originally planted by the Phoenicians. Look out for the candelabra-shaped Imperial Palm with its eight arms.
Horchata and fartons
Chufa (tiger nut) is used to make a sweet, milky drink called horchata, best consumed at a 'horchateria' accompanied by spongy, sugary fingers called fartons. The tiger nut is good for health due to its high levels of iron and potassium.
Almería, Spain
Alcazaba Fortress
Proudly overlooking and protecting the city below, the Alcazaba Fortress and its complex of ancient structures is a great place from which to admire breathtaking views of Almería and its rugged coastline. Dating back to the 10th century, the sandstone coloured fortress is divided into three sections of impressive historic architecture, and also features a collection of gorgeous gardens.
Tabernas & Mini Hollywood, Almeria
Considered the only true desert in mainland Europe, the semi-arid Tabernas unrolls over more than 280 km². This landscape provided the backdrop for countless films, especially classic Westerns.
Alhambra Palace
One of the most beautiful fortified palace complexes in the world, the Alhambra sprawls across its forested hilltop like – as Moorish poets described it – 'a pearl set in emeralds.' Complementing the showpiece palaces are a set of ravishing gardens.
Avilés, Spain
Traditional Asturias Cider
Cider is the traditional drink of Asturias and has been produced here using locally grown apples since ancient times. For an authentic experience, head to a sideria (cider house) where you can enjoy a tasting and see the unique way that it's poured.
Oscar Niemeyer Centre
This ultra-modern cultural centre, designed by Brazilian architect Oscar Niemeyer, hosts a broad programme of exhibitions, concerts, plays and more. Its clean, white exterior, accented with red and yellow, can be seen from several sites across the city.
Cartagena, Spain
Roman Cartagena
Layers of history and Classical remnants abound throughout Cartagena, from the Roman Theatre and Museum to the Casa de la Fortuna and the Punic wall, the first defensive wall of Cartagena, which dates all the way back to the 3rd Century BC.
Cartagena's Maritime History
The impressive Muralla del Mar ('Sea Wall') delimits Cartagena's old quarter. Elsewhere, the National Centre for Underwater Archaeological Research reveals aspects of naval construction, trade and navigation that since ancient times.
Mining
In the wider region of Murcia, the Sierra Minera and La Unión area is rich with metals and remains, like an open-air mining museum. Agrupa Vicenta at La Unión is a true highlight, plunging 80 metres beneath the surface to a rust-red lake at its bottom.
Discover the sweet flavours of Licor 43
Distilled in Cartagena and produced at a rate of up to 5,000 bottles per hour, Licor 43 is said to be the most sold liqueur in Spain. The name derives from the 43 ingredients used in its creation, including citrus fruit juices, spices and herbs.
Cádiz, Spain
Jerez Sherry
The ancient town of Jerez is Andalusia's fifth largest city and is most famous for its fortified wine, known as sherry. Some say that the word 'sherry' was a mispronunciation of 'Jerez' by the early British visitors who couldn't pronounce the Spanish 'J'.
Cádiz Tapas
The myths about the origins of tapas are as varied and plentiful as the flavourings of this bite-sized Spanish morsel. However, many believe this staple of Spanish cuisine originated in Cádiz after a visit from Alfonso XIII. So popular is this style of eating that, today, on most menus, everything is available in a tapas-sized portion.
El Ferrol, Spain
Naval History
Spain's first academy of Naval Engineers formed in Ferrol in 1772 and Ferrol became the Capital of the Maritime Department of the north of Spain. Ferrol has always been linked to the sea, with a tradition of seafaring and fishing so a visit to Ferrol's Military Dockyard is a must.
Ceramics
The ceramics industry arose with the opening of a pottery factory in the town of Cervo in 1794. The Cervo ceramics factory came into being when English pottery ceased to be imported.
Ibiza, Spain
Ibiza Old Town (Dalt Vila)
The fortified acropolis of Dalt Vila remains one of the most picturesque old towns in Spain, packed with exceptionally well-preserved remnants of the Catalans, Arabs and Phoenicians and of the Renaissance.
La Coruña, Spain
Santiago de Compostela
Santiago de Compostela shares the status of Rome and Jerusalem in the context of Christianity. The city comprises stone architecture and cobbled streets and is dominated by a magnificent cathedral, the last stop on the ancient pilgrimage of Camino de Santiago.
Tower of Hercules
Standing atop a 57-metre-high rock as it has done for over 2,000 years, the ancient Tower of Hercules is an iconic symbol of La Coruña. It is one of the oldest Roman lighthouses still in operation today, and can be seen from a distance of 32 miles.
Malaga, Spain
Picasso Museum
Pablo Picasso is Malaga's most famous son and this dedicated museum – 50 years in the making – houses a wide variety of works, the majority of which have been donated by relatives. Among these works are portraits of Picasso's immediate family.
Alhambra Palace
One of the most beautiful fortified palace complexes in the world, the Alhambra sprawls across its forested hilltop like – as Moorish poets described it – 'a pearl set in emeralds.' Complementing the showpiece palaces are a set of ravishing gardens.
Olive Oil
The southern Spanish region of Andalusia is the biggest producer of olive oil in the world. It's an integral part of the cuisine, as well as the economy. The five types of olive used in production are Picual, Hojiblanca, Lechin, Verdial and Picudo.
Palma, Spain
Valldemossa
One of the prettiest villages on the island, Valldemossa sprawls over the hillside, its stone houses contrasting with the surrounding green forests. Almost every shutter is painted the same shade of emerald green, creating a satisfying artistic effect.
La Seu Cathedral
A truly magnificent structure, Palma's stunning cathedral combines a variety of architectural styles, but above all represents an exquisite example of Gothic design. Its stunning Gaudí and Barcelo-designed interior sets it apart from other cathedrals.
Sóller Train
Served by delightful vintage wooden carriages for over 100 years, the 17-mile stretch between Palma and Sóller spans beautiful Spanish countryside. Sit back and savour it as the route winds through the Tramuntana mountain range and into the citrus valley.
Valencia, Spain
Paella
Valencia is the undisputed home of this iconic Spanish dish and has been one of Spain's most important rice-producing areas for over a millennia.
Oranges
The citrus-growing plains around Valencia stretch to the aptly-named Costa de Azahar (orange blossom coast), producing many tons of fruit every year, especially oranges.