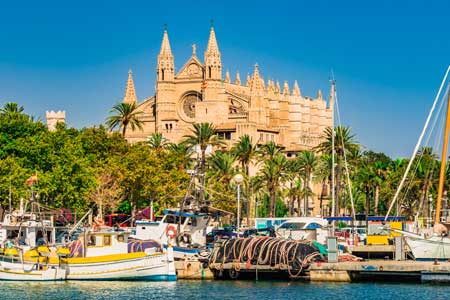 Spain is not just about football, bullfighters and flamenco. Granted, they are part of what makes Spain so special, but as a country it has far more to offer. Whether your cruise to Spain takes you to the mainland and places such as Alicante, Barcelona and Valencia or to one of its islands, you will enjoy sun by the bucket load, a fascinating culture and lashings of delicious food such as tapas, paella, not to mention the local wines. [ReadMoreMob]
You'll be hard pushed to find a country with quite so many stunning beaches making lazing around in the sun a must – it would rude not to.
The Canary Islands offer a very concentrated look at Spanish life, but if you really want to get away from it all, a cruise to El Hierro will take you to one of the most unspoilt and un-touristy parts of Spain.A cruise to Spain is like opening a treasure chest. As you dig down you'll discover a wealth of sights and sounds that will keep you coming back for more.
Top Experiences
Almería, Spain
Alcazaba Fortress
Proudly overlooking and protecting the city below, the Alcazaba Fortress and its complex of ancient structures is a great place from which to admire breathtaking views of Almería and its rugged coastline. Dating back to the 10th century, the sandstone coloured fortress is divided into three sections of impressive historic architecture, and also features a collection of gorgeous gardens.
Tabernas & Mini Hollywood, Almeria
Considered the only true desert in mainland Europe, the semi-arid Tabernas unrolls over more than 280 km². This landscape provided the backdrop for countless films, especially classic Westerns.
Alhambra Palace
One of the most beautiful fortified palace complexes in the world, the Alhambra sprawls across its forested hilltop like - as Moorish poets described it - 'a pearl set in emeralds.'
Cádiz, Spain
Jerez Sherry
The ancient town of Jerez is Andalusia's fifth largest city and is most famous for its fortified wine, known as sherry. Some say that the word 'sherry' was a mispronunciation of 'Jerez' by the early British visitors who couldn't pronounce the Spanish 'J'.
Cádiz Tapas
The myths about the origins of tapas are as varied and plentiful as the flavourings of this bite-sized Spanish morsel. However, many believe this staple of Spanish cuisine originated in Cádiz after a visit from Alfonso XIII. So popular is this style of eating that, today, on most menus, everything is available in a tapas-sized portion.