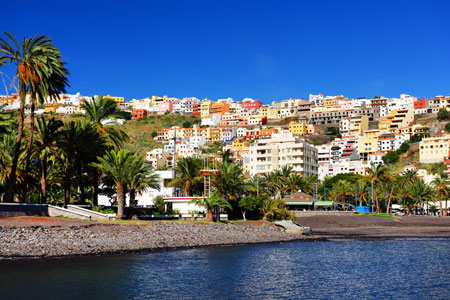 Discover the Canary Islands
Bask in year-round sunshine when you cruise the Canary Islands and embark on an adventure to discover remarkable landscapes and iconic sites of this enchanting archipelago. Situated just off the northwest coast of Africa, this European tropical paradise offers a captivating blend of fun, adventure and natural beauty.
Explore the vibrant streets of Las Palmas on a Gran Canaria cruise, relax on the amazing black sand beaches of Tenerife, and marvel at the extravagant rock formations and volcanic landscapes of Lanzarote. From the lush forests of La Gomera to the dramatic cliffs of Los Gigantes, every stop on a Canary Islands cruise promises an exhilarating experience.[ReadMore]
Natural Wonders
Prepare to be captivated by some of the best nature reserves and national parks the world has to offer. La Palma, known as the "La Isla Bonita", will enchant you with its beauty as you traverse through lush forests, gaze upon its rugged cliffs, and marvel at its volcanic landscapes. Venture inward to the magnificent Caldera de Taburiente National Park, where cascading waterfalls and verdant valleys await your discovery, or set your sights on the majestic Mount Teide in Tenerife, Spain's highest peak.
As you cruise around the Canary Islands, discover the coastal landscapes of Arrecife, where golden beaches meet crystalline waters, and indulge in the vibrant atmosphere of Las Palmas, with its picturesque cityscape and tranquil palm-fringed beaches.
Each stop on a cruise to Madeira and the Canary Islands unveils a tapestry of natural wonders, leaving you in awe of this extraordinary region. Set sail on a Canary Islands cruise from Southampton and get ready for a voyage filled with sun-drenched beaches, cultural discoveries, and endless memories.
Cruises to Canary Islands