Careers at Fred. Olsen Cruise Lines

At Fred. Olsen we know that our people are our future. Nurture those you've worked hard to attract. Learn from each other. Invest in the talents around you and embrace change. [ReadMoreMob]It's a philosophy that makes our organisation a favourite employer in East Anglia and now further afield. It stems back over 150 years from when the Olsen family first ventured into the ship-owning business.
Across all the Fred. Olsen companies, today we employ more than 500 staff all over the UK. With all of our employees, we aim to invest in your career and personal development through a variety of different methods, ranging from In-House Training through to professional qualifications.
We are caring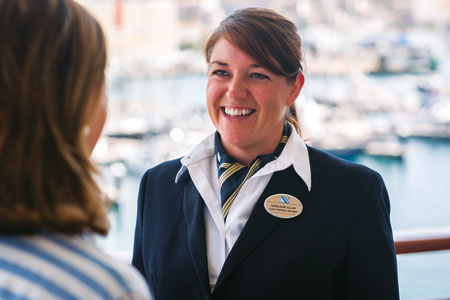 "We trust and care for each other, our guests and our environment"
Always deliver a warm and friendly welcome
Always make time to listen
Look out for each other's safety, security and well-being
Strive to help protect the environment for future generations
We are positive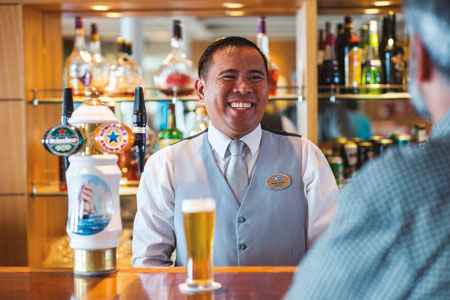 "We live and share a positive attitude"
Motivate each other with positive energy
Always see the opportunities in new ideas
Believe it's better to learn than never try
Always look for ways to add value and make a difference
We are real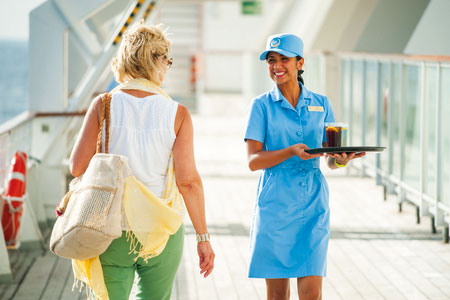 "We are always ourselves and respect others"

Bring our real selves to work and perform
Respect and embrace all our different personalities and cultures
Have the courage to admit when we are wrong and have the strength to act on it
Have a voice and encourage open, honest communication
We are a team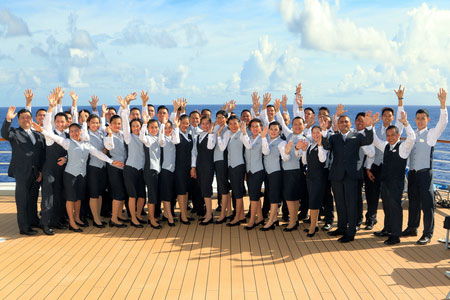 "We are more than a team; we are a family"
Share experiences and learn from each other
Adapt, respond and pull together to drive results
Together we recognise and celebrate our achievements
Fred. Olsen History
The Olsen family business boasts over 170 years of seafaring heritage, having originated in 1848 when the first Fred. Olsen acquired two small ships operating from Hvisten, Norway.
Since then, through five generations of the Olsen family and two World Wars, the company has gone from strength to strength, sailing cargo vessels and cruise ships around the world.
Today, the business operates four cruise ships, sailing across the globe - providing holiday experiences that will last a lifetime.
Alternative Fred. Olsen Businesses
Fred. Olsen Limited
Acts as the parent company to many of our businesses based in the UK. We also operate a central service function from an office in Ipswich. This part of the business provides support services to the rest of the group including, HR, IT, Facilities and Accounts. Typical positions that may come up in this area are; HR Assistant, Accounts Assistant, IT Support Analyst, IT Trainee and Receptionist.
Fred. Olsen Travel Limited
Fred. Olsen Travel are well known in East Anglia as a quality independent retail travel agent with branches in Ipswich as well as in the town centres of Colchester, Felixstowe, Bury St. Edmunds, Norwich and Woodbridge. The Company also manages a franchise business and acts as general sales agents for exclusive products. Typical positions that we recruit for within Fred. Olsen Travel are; Sales Consultants, Cruise Consultants, Trainees, Accounts positions and Marketing roles.
SeaRoc
SeaRoc provides specialist products and services exclusively to the Offshore Renewable Energy Sector. We offer our clients marine, engineering, QHSE and geographical information system (GIS) data management expertise together with a range of bespoke applications to support the development, construction and management of offshore projects.
SeaRoc Ltd is a turnkey solution provider to the offshore wind industry and comprises the knowhow, services and production capacities of all of the wind initiatives established within Fred. Olsen related companies. Typical vacancies in this area of the group would be; Web Developers, Engineers, Health & Safety Professionals and Consultants.
The Natural Power Consultants Ltd
Natural Power is an independent renewable energy consultancy and products provider with over two decades of unique industry expertise. They provide planning & development, ecology & hydrology, technical, construction & geotechnical, asset management and due diligence services locally across onshore wind, offshore wind, wave, tidal and biomass sectors globally.
Currently employing over 250 people worldwide, Natural Power is a growing business that operates from offices both in the UK and globally. Typical vacancies at Natural Power would be; Project Managers, Graduate Engineers, Ecologists, GIS Technicians and Wind Analysts.
ZephIR Lidar
The ZephIR Lidar team deliver world-class, industry leading wind measurement systems and supporting services for onshore and offshore wind energy projects and turbine mounted applications. Typical vacancies at ZephIR include; Software Designers, Engineers, Technicians and Support staff.