Our elegant main restaurants are at the heart of every Fred. Olsen dining experience and are open for breakfast, lunch and dinner.
Every evening, enjoy a delicious five-course à la carte menu. Changing daily, you will find options including steaks, seafood, freshly made soups, pasta and salads. we also occasionally feature a regional dish, so you will have the chance to experiment with local cuisines alongside your usual favourites.
For a more relaxed experience, you can join us in our buffet restaurant where you will find a delicious choice of freshly prepared options each day.
Main Restaurants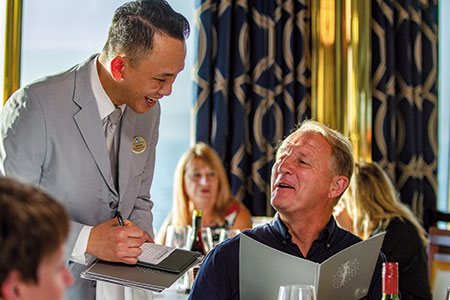 Each of our ships has two or three main restaurants serving buffet and à la carte breakfast and lunches, as well as sumptuous five-course à la carte dinners every evening. Both breakfast and lunch are open seating while there are two seatings for dinner.
The table in the main restaurant will be allocated by the Maitre'D; we will happy take requests should you have a preference, although these are not guaranteed. During the day the dress code in all restaurants is casual; the evenings are usually smart-casual, apart from Formal Nights.
Bolette | Bloomsbury & Terrace Restaurants
Borealis | Borealis & Aurora Restaurants
Balmoral | Ballindalloch, Avon & Spey Restaurants
Casual Dining
For a more flexible, relaxed experience, with a casual dress code at all times, there is the option to eat in the buffet restaurant on each ship. Open for breakfast, lunch and dinner every day, you'll find a wide variety of quality dishes, which our crew are more than happy to serve to you.
Bolette | The View Buffet Restaurant
Borealis | The View Buffet Restaurant
Balmoral | Palms Café
Colours & Tastes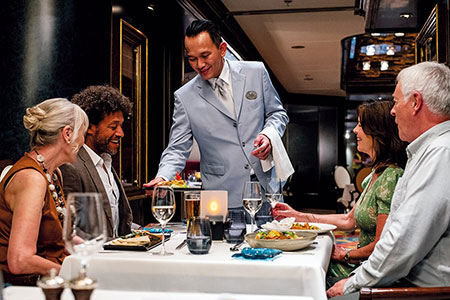 Our Colours & Tastes restaurant features a tempting variety of Asian Fusion dishes, from spiced grilled meats and seafood to gyozas, dim sum and sushi.
In surroundings as vibrant as the food itself, each dish is lovingly created by our expert chefs and designed to give you an authentic taste of the Orient – with signature dishes from Japan, Thailand, China and the Philippines.
Vasco
Named after the famous explorer Vasco Da Gama, Vasco offers a fresh and modern take on Indian cuisine. The menu is inspired by our chefs from Goa and focuses on the unique culinary traditions of this area – a place where the tastes of Europe first met the tropical warmth and spices of western India. Our chefs create each dish by hand and are proud to share the unique tastes of their homeland with our guests so they get an authentic culinary experience.
Choose from a selection of delicious seafood, curry and grilled meat dishes in a setting inspired by the warmth and richness of Goan tradition.
Booking ahead is highly recommended for both our speciality dining venues and can be booked within the My Cruises section of our website from 13 weeks prior and up to 24 hours before your cruise departs. There is a small supplement for both Colours & Tastes and Vasco dining experience, which is charged at just £10 per person when making a reservation pre-cruise and £15 per person on board.
Afternoon Tea
Each day complimentary afternoon tea is served, with sandwiches, scones and cakes, along with fresh tea and coffee, always a popular choice. During sea days guests can book a very select experience: Traditional Premium Afternoon Tea*. Enjoy beautiful views from the stylish The Observatory Lounge, with musical accompaniment from our on board pianist and the careful attention of white-gloved waiters. Your choice from a selection of premium teas by Rare Tea Company is served in porcelain teapots, along with elegant finger sandwiches, pastries and warm scones with jam and clotted cream – all for only £13 per person*.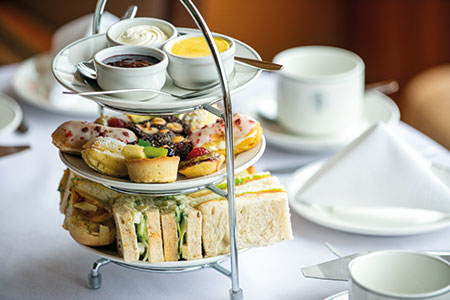 *Chargeable to your on board account. Please note our Traditional Afternoon Tea service takes place on sea days only at 3pm and must be booked at least 24 hours in advance.
Food & Drink Experiences
From bespoke wine tasting sessions where you can sample wines from the region you are visiting, to breakfast and lunch forums with our guest speakers. On every sailing you'll have the chance to enhance your cruise with one of our food and drink experiences.
Formal nights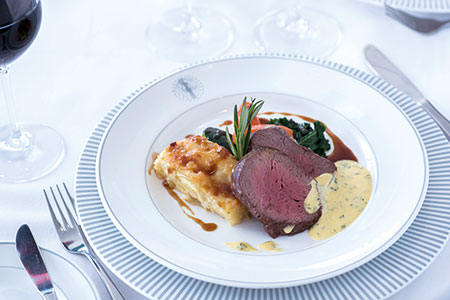 On every cruise of five nights or more, you will be invited to join our Formal Nights, your chance to enjoy a night of extra indulgence. With an extra special menu, everyone will be dressed in their finest evening wear, with a black tie dress code for gentlemen, and cocktail, evening dresses or suits for ladies. If you would prefer a more relaxed experience, our buffet restaurant The View offers a casual dining experience on these evenings, where the dress code remains smart casual.
Wine tasting
With our expert Sommelier as your guide, learn how to fully appreciate the intricacies of a variety of wines. From the methods used in their production, to the depth of flavour and aroma in every glass, join us to taste some of the world's finest tipples and learn more about their production methods. We hold bespoke wine tasting events throughout each cruise. Check your Daily Times once on board for full details (small extra charges apply).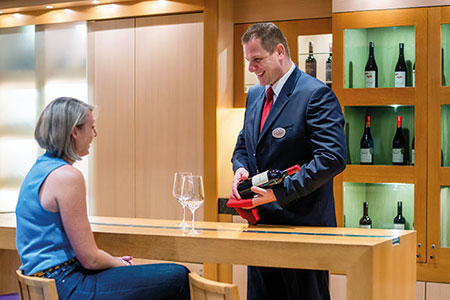 Rare tea tasting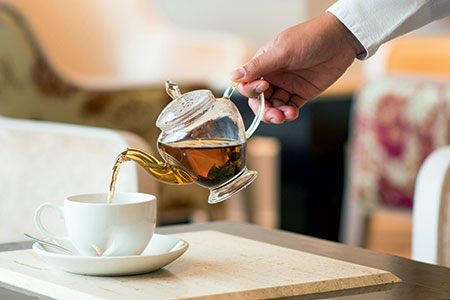 Taking tea is ceremonious in the East, and our Oriental Tea Room creates such a sense of occasion. Our knowledgeable Tea Sommeliers will host Tea Tastings throughout your cruise. Passionate about their craft, they can recommend an infusion for any type of taste or mood with their range of luxury, sustainable teas supplied by London-based The Rare Tea Company. Our tea tastings are limited to just 14 people per session. This is available to book before you sail and a small extra charge applies.
Martini experience
In our fun Martini Experience our talented Bar Team shake up a storm and teach you how to create your favourite tipples. From the original dirty martini to recipes with a modern twist, discover the origins of this classic cocktail in this immersive experience. Our Martini Experience is limited to just 30 people. This is available to book before you sail and a small extra charge applies.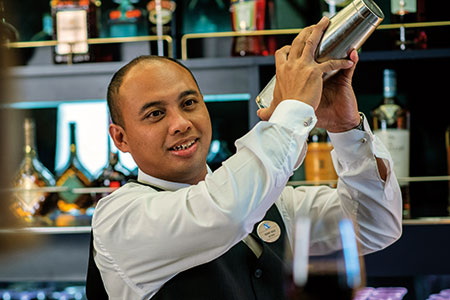 Breakfast and lunch forums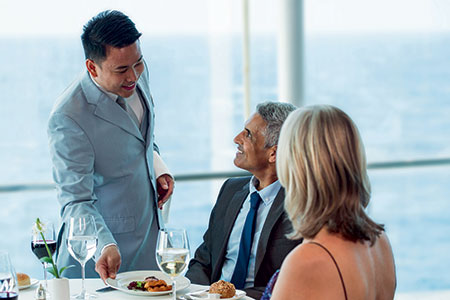 Throughout the cruise, some of our wonderful guest speakers will be hosting private breakfasts and lunches with small groups focusing on a particular topic of conversation within their area of expertise, giving you the chance to chat to them on a more intimate and personal level. This is available to book before you sail and a small extra charge applies.