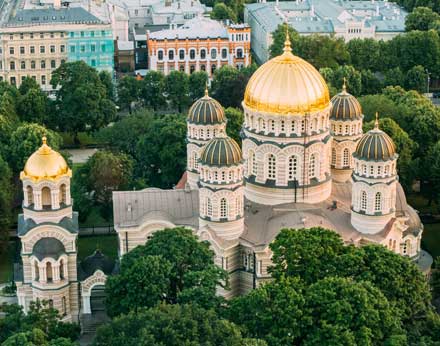 It's a real treat to find somewhere that hasn't been spoilt by tourism and a cruise holiday to Latvia will take you to just such a place. It may be small, but it is perfectly formed, unpretentious and mesmerising. [ReadMoreMob]
Riga is an absolute joy. Its Old Town's architecture has barely changed since medieval times, rightfully earning it UNESCO World Heritage status. Riga's wealth of restaurants will introduce you to typically hearty Latvian cuisine. Red meat, fish and warming stews abound, all washed down with a local beer or, if you're brave enough, some of the local spirits. But be warned, these are incredibly strong.
Not too far away is the popular seaside resort of Jurmala with its mineral springs and white sandy beach, perfect for relaxing and watching the world go by.
A cruise holiday to Latvia is a rare thing as it combines history, culture and stunning scenery in a country that has, so far, been unspoilt. Best keep it a secret so it remains that way.
Cruises to Latvia
Departs: Newcastle • Thu 13 May 2021
14 nights • Balmoral • L2114
Combining visits to intoxicating destinations, including five capital cities, with spellbinding scenic cruising, this classic Baltic exploration will have you captivated from the moment you set sail.
Revel in the artistic, historic and cultural attractions of three Scandinavian capitals – Copenhagen, Oslo and Stockholm; and experience unforgettable navigations of the sprawling Stockholm archipelago.
You're sure to be left spellbound by the enchanting old towns of Riga and Tallinn, as well spectacular palaces, grandiose churches, iconic landmarks and quintessential Russian ballet in St Petersburg.
From £1,999pp
Fares Explained
|
What's Included
Departs: Newcastle • Thu 30 Sep 2021
12 nights • Balmoral • L2130
With fewer sightseers around, you can experience an immersive and more relaxing exploration of captivating Baltic cities outside of peak season.
Smaller crowds and queues in St Petersburg allow more time and space to see the city's spectacular sights, and experience the magic of Russian ballet, during an overnight stay.
Explore Tallinn's enchanting Old Town and meet local bell ringers at one of its historic churches; wander charming Riga; and taste authentic Scandinavian culture in Copenhagen and Gothenburg.
From £1,699pp
Fares Explained
|
What's Included
Departs: Dover • Tue 05 Oct 2021
13 nights • Bolette • T2124
Visiting incredible cities when they are less crowded, you've opportunities to experience the best of the Baltic with fewer tourists around and more space to discover iconic attractions.
In St Petersburg, see spectacular sights by day; and enjoy a magical night at the Russian ballet, with a chance to meet the soloist performer too.
Meet bell ringers at one of Tallinn's historic churches; immerse yourself in Helsinki's Finnish culture; plus, visit the charming capital cities of Copenhagen, Oslo and Riga.
From £1,799pp
Fares Explained
|
What's Included