Culture capitals are tipped to be a major travel trend this year, with travellers craving new experiences in cities brimming with rich culture and history. However, with so many to choose from across the globe, which coastal cities are worth your time?
To find out who truly owns the crown as the top coastal culture capital of the world, Fred. Olsen Cruises conducted a study comparing over 117 coastal cities around the world and ranked them based on the number of World Heritage Sites, Instagram hashtags, Google searches, landmarks, museums, tours and theatres and concerts.
Take a look below to discover which cultural hubs you should visit on a cruise this year.
The Rise of Culture-Craving Travellers in 2023
Travellers are increasingly looking for experiences that offer a deeper insight into the culture and histories of places they visit. This has led them to seek out culturally enriching experiences in cities across the world that are known for their historic landmarks, unique traditions and vibrant art scenes.
Cultural capitals offer visitors the opportunity to immerse themselves in the local culture, whether that's attending a traditional festival, trying the local cuisine or exploring the many historic landmarks that dot our globe.
In such an interconnected world reliant on technology, we're craving authentic experiences that go beyond the typical tourist attractions. In fact, in a recent study by American Express, 79% of Gen-Z and Millenials agreed that they would love to partake in a day in the life of locals in the destination they are visiting in a bid for more authentic encounters.
Thankfully we have plenty of locations to choose from, including the vibrant street life of Rio De Janeiro to the glittering skyscrapers of Singapore. In our analysis, we explore what makes each city tick and attracts millions of tourists every year.
Coastal Cultural Capitals to Consider This Year
With so many cultural capitals to choose from, it can be overwhelming to choose where to go. Thankfully, there's an option to suit everyone's taste, no matter where you want to visit. In our world map, we have visualised where the top coastal capital of each country ranks. Explore the map below to see where the top cities for coastal culture are in the world.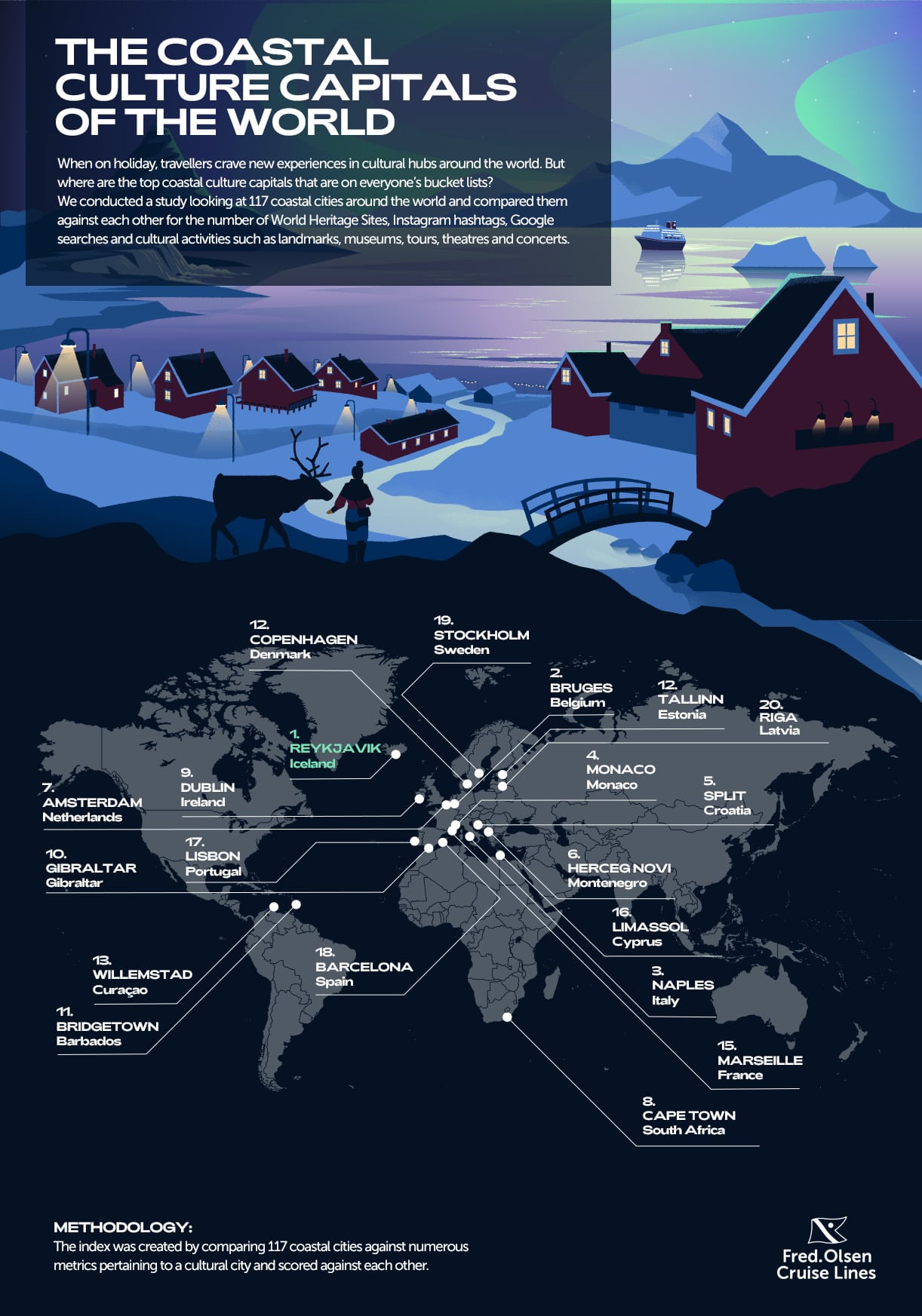 Whether you're looking for a quick city break to Amsterdam or want to explore a hidden gem further afield, there's a wealth of culture no matter where you choose to travel.
The Top 10 Coastal Cultural Capitals Overall
With so many cultural capitals to choose from, it can be hard to choose where you should go to get all the best experiences. We've narrowed down the top 10 overall so you can check out where to go at a glance.
From our analysis, we discovered that Europe is the continental hub of cultural capitals, with 9 out of 10 cities in our top ranking based on the European continent. Cultural capitals range from the vibrant music scene in Iceland's chilly Reykjavik all the way to the toasty shores of South Africa's port city of Cape Town.
Check out Fred. Olsen Cruises top tips on the leading five cultural capitals from our study below in more detail.
Reykjavik in Iceland is the Coastal Cultural Capital of the World
The Icelandic capital of Reykjavik comes in first place as the ultimate cultural capital of all coastal cities in the world. The Nordic location scored a 9.05 out of 10, beating all other locations by a long shot.
The capital has one of the highest scores for the most theatre and concert events which is no surprise when you take into account the number of internationally acclaimed artists the city has produced including Bjork, Of Monsters and Men, and Eurovision favourites Daði og Gagnamagnið. It also hosts several music festivals throughout the year, such as the Iceland Airwaves Festival and Reykjavik Jazz Festival. For those seeking an attraction steeped in history, Reykjavik is also home to the largest church in Iceland, Hallgrimskirkja. Standing at 74 metres tall, the structure is one of the most visited attractions in the country, viewed as the city's most iconic buildings.
There's plenty of museums and art galleries to explore nestled between the streets, with The Reykjavik Art Museum home to a vast collection of contemporary and modern art as well as the National Museum of Iceland giving tourists an insight into the country's history and culture.
If you're looking for a memorable city break experience to the Arctic, explore our cruises to Iceland, Norway and Greenland.
Bruges, Belgium Sneaks in at Second Place

Famously known for its main character moment in the comedy film In Bruges starring Colin Farrell, this Belgian city is also famed for its picturesque streets, delicious chocolate shops and its annual Christmas market, Grote Markt, which is a notable must-see attraction during the Winter months.
Bruges scored 8.4 out of 10 in our Coastal Culture Capital Index with its high number of landmarks and museums compared to its population size. The quaint cobblestone streets, canals and historic buildings are enough to keep you entertained by simply walking around its cultural centre for a day.
Make sure to check out the famous Belfry of Bruges, a mediaeval bell tower in the centre of the city where you can climb 288 steep stairs and be rewarded with a vast view of the surrounding landscape.
If Bruges takes your fancy or any other European city, discover our European city cruises.
The Adriatic Gem of Split, Croatia Comes in 5th

Coming in at number five is Split in Croatia, scoring 7.99 out of 10. Although Split is still considered somewhat of a hidden gem, Game Of Thrones famously put this destination on the map for its dramatic coastline and stunning Riva Waterfront situated on the Dalmation Coast.
One of the go-to locations in Split is Diocletian's Palace, a UNESCO World Heritage Site which is one of the most well-preserved examples of ancient architecture in the world. The palace is home to a labyrinth of alleys and narrow streets which lead to ancient courtyards, hidden ruins and stunning views of the sea.
Fred. Olsen Cruises Top Picks For Coastal Culture
Canals Of Amsterdam Are One Of The Most Instagrammable Locations

With its world-famous canals and distinguished architecture, Amsterdam is a cultural hub regarded as a favourite in Europe with millions of tourists flocking to the enchanting city every year. In our ranking, Amsterdam came in 7th place with a score of 7.73, rising to the top as one of the most Instagrammable locations in the study with a whopping 35 million posts.
Amsterdam has a strong artistic heritage that dates back centuries from famous painters like Vincent Van Gogh and Rembrandt van Rijin calling it home, to renowned institutions inspired by such painters like the Van Gogh Museum and Rijksmuseum.
It also has its fair share of cultural events, no matter what time of year you choose to visit. Come in spring to celebrate King's Day where the city centre of Amsterdam is closed to cars and taken over by flea markets and street parties for two days.
Finally, the Dutch capital is also globally recognised for its vibrant blooms and its colourful array of tulips, which marks the beginning of Spring in Holland. The city is home to the only floating flower market in the world, The Amsterdam Flower Market, which is a must-see spot for embracing the city's floral connection. Keukenhof, known as The Garden of Europe, is only a 40 minute journey from Amsterdam, offering breathtaking tulip fields and more than seven million flowers to discover.
Copenhagen's Colourful Harbour a Cultural Capital

Denmark's capital Copenhagen is regarded as one of the top spots to visit in the world for culture, boasting some of the most beautiful architecture in Europe and an admiral commitment to sustainable living. The city is a popular spot with Google searches reaching a million every month and Instagram photos surpassing 10 million in total.
Copenhagen has a huge number of landmarks and museums that celebrate history, art and innovation. Check out The National Gallery of Denmark to explore an extensive collection of Danish and international art while design enthusiasts can visit the Danish Design Museum showing the evolution of Danish design throughout the years.
Finally, not to be missed are the Tivoli Gardens based in the heart of Copenhagen. This amusement park is the second oldest in the entire world and has extensive landscaped gardens, perfect for a mid-afternoon stroll. The gardens also play host to a number of concerts, ballets and theatrical shows, perfect to soak in Danish culture in beautiful surroundings.
Find the Cultural Capital of Your Dreams
If you're starting to feel inspired and want to explore our data in more detail, check out the index table below to dig into each of the metrics of our top 50 cities.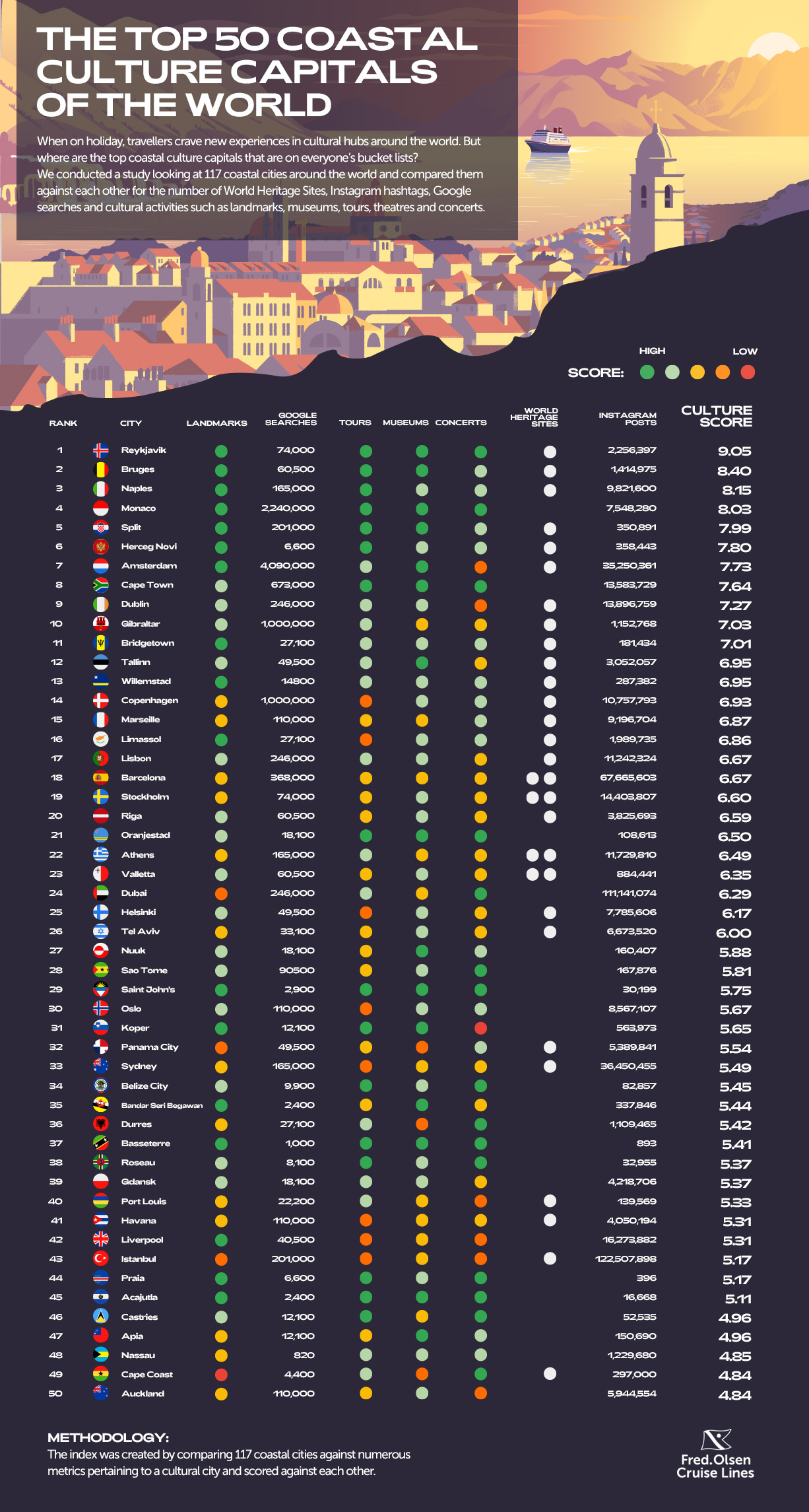 Going on holiday shouldn't just be a time to sit back and relax but to also take in all your destination has to offer. Choosing a cultural capital enables you to experience unique food options, striking architecture and a wealth of activities to keep you busy.
Feeling Inspired?
Now you've had a taste of the kinds of cultural capitals you can visit while still staying close to the sea, why don't you take a look at our list of cruises from the UK to see where you'll go this year?