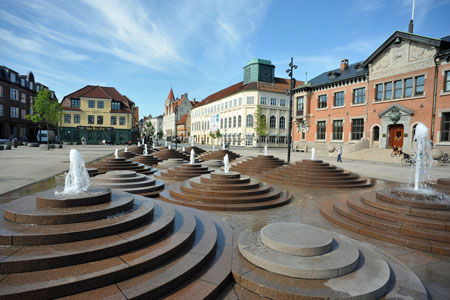 Denmark is a country with a rich history of Vikings and castles and is also a land of fairy tales: it is the birthplace of the legendary storyteller, Hans Christian Anderson. But above all, its canals, cafés and culture create a country ideal for exploration and enjoyment. [ReadMoreMob]
Linked to neighbouring Sweden via the Öresund Bridge, the best known of Denmark's cities is its charming capital. Copenhagen is home to serene royal palaces and the colourful Nyhavn Harbour, and boasts historic amusement parks and gardens and iconic mermaid statues. Its medieval streets, art galleries and excellent restaurants are a joy to uncover. Medieval churches, Renaissance castles and Viking ruins make a cruise to Denmark a step back in history that inspires every visitor.
Considering its coastal location, fish is an important part of Danish cuisine. The food scene is excellent and, of course, it is also home to 'probably the best lager in the world'. Denmark remains one of Europe's cleanest, greenest and friendliest countries, and the quality of life is underlined by the populace's cheerful emphasis on hygge (cosiness). This refreshing attitude makes a cruise to discover Denmark's treasures the perfect break for anyone.
Top Experiences
Aabenraa, Denmark
Watchmen in Aabenraa
Traditionally, Night Watchmen patrolled Danish market towns to contain fires and ensure order among the streets. Aabenraa still has them today, and visitors are welcome to join them on a patrol while they recount fascinating tales of the past.
Fishing Industry
Aabenraa developed from a fishing village into a major fishing port between the 17th and 18th centuries. The city's heritage is represented in its coat of arms, which bears three mackerels, and the local church named after St Nicholas, the Patron Saint of Seafarers.