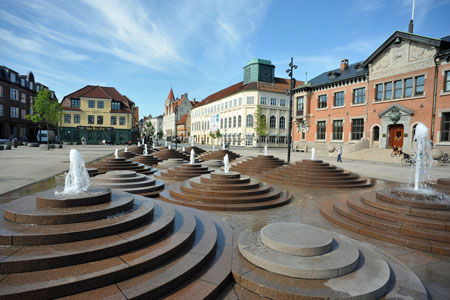 Denmark is a country with a rich history of Vikings and castles and is also a land of fairy tales: it is the birthplace of the legendary storyteller, Hans Christian Anderson. But above all, its canals, cafés and culture create a country ideal for exploration and enjoyment. [ReadMoreMob]
Linked to neighbouring Sweden via the Öresund Bridge, the best known of Denmark's cities is its charming capital. Copenhagen is home to serene royal palaces and the colourful Nyhavn Harbour, and boasts historic amusement parks and gardens and iconic mermaid statues. Its medieval streets, art galleries and excellent restaurants are a joy to uncover. Medieval churches, Renaissance castles and Viking ruins make a cruise to Denmark a step back in history that inspires every visitor.
Considering its coastal location, fish is an important part of Danish cuisine. The food scene is excellent and, of course, it is also home to 'probably the best lager in the world'. Denmark remains one of Europe's cleanest, greenest and friendliest countries, and the quality of life is underlined by the populace's cheerful emphasis on hygge (cosiness). This refreshing attitude makes a cruise to discover Denmark's treasures the perfect break for anyone.
Top Experiences
Aabenraa, Denmark
Ribe
Founded in the early 8th century, Denmark's oldest town is home to many historic buildings, including the oldest cathedral in the country. Ribe also boasts a Viking Centre, which features a reconstruction of the village and market from the Viking Age.
Watchmen in Aabenraa
Traditionally, Night Watchmen patrolled Danish market towns to contain fires and ensure order among the streets. Aabenraa still has them today, and visitors are welcome to join them on a patrol while they recount fascinating tales of the past.
Fishing history
Aabenraa developed from a fishing village into a major fishing port between the 17th and 18th centuries. The city's heritage is represented in its coat of arms, which bears three mackerels, and the local church named after St Nicholas, the Patron Saint of Seafarers.
Aalborg, Denmark
Lindholm Høje
Danish history tells of the Germanic Iron Age and the Viking Age; Lindholm Høje is home to several burial sites from these important eras. Drifting sand covered the area, preserving the stone circles for hundreds of years, and hundreds of graves and stone ships have been found here. Many of the archaeological finds are on display in the museum, and these exhibits offer a fascinating insight into Viking life in the region.
Jørn Utzon
One of the most famous architects of our time, Jørn is recognised for one of the most stunning buildings in the world: The Sydney Opera House. The Utzon Centre in Aalborg features similar ideas.
Happy Locals
Aalborg is one of Europe's happiest cities and has even been recognised with the title of Europe's Happiest City in recent years.
Copenhagen, Denmark
Tivoli Gardens
The world's second-oldest operating amusement park boasts a mix of rides, pavilions and open-air stage shows. You can ride the renovated, century-old roller coaster or simply wander the eclectic gardens, featuring everything from fountains to an orangery.
Uncover royal Copenhagen
Copenhagen's rich, royal history is evident at a number of sites across the city, including Amalienborg and Christiansborg palaces, and Rosenborg Castle, home to the crown jewels. Head to Palace Square to see the changing of the guards, which occurs everyday.
Nyhavn
Copenhagen's 17th century waterfront and canal district is lined with brightly coloured townhouses that have been the home of many famous artists over the years, including Danish author Hans Christian Andersen. Today, this picturesque, vibrant area is a magnet for tourists.