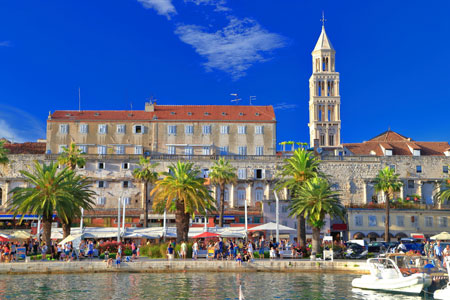 The exuberant city of Split, on Croatia's Dalmatian Coast, has the perfect balance of modernity and tradition. It is known for its fine beaches and the fortress-like, UNESCO-listed Diocletian's Palace – a hugely-impressive 4th century Roman monument.
Life in Split has been buzzing along for millennia. Within its white stone walls, maze of alleys and atmospheric courtyards numerous shops, lively bars and cafés, and two vibrant markets can be found.
The wonderfully picturesque Narodni Trd is a pretty square overlooked by the Venetian-style city hall and Romanesque clock tower. The octagonal St Domnius Cathedral is another well-preserved Roman building well worth seeking out. Roman heritage is still evident in the Old Town, close by the waterfront, which has the remains of the Diocletian's Palace – essentially the most magnificent retirement home for the Roman Emperor, Diocletian.
Split has a gem of a seafront that combines honeycombs of unique historical buildings with a sublime, palm-lined Riva waterfront. The Marjan, a glorious wooded peninsula, has fine secluded beaches among fabulous olive groves.
Destination Highlights
Diocletian's Palace
A UNESCO World Heritage Site since 1929, the ruins are some of the most valuable surviving buildings from the Roman era, on the Adriatic Coast. Although called a palace, it is not, nor is it a museum – this is the city's living heart, its streets packed with people, bars, shops, and restaurants. Built as a military fortress, imperial residence and fortified town, the palace covers 38,700 square metres. The palace was built in the 4th century from lustrous white stone transported from the island of Brač, and construction lasted ten years.
Brač Island
Brač is famous for two things: its radiant white stone, used to build Diocletian's Palace in Split and the White House in Washington, DC, and Zlatni Rat, the long pebbly beach at Bol that extends into the Adriatic and adorns 90% of Croatia's tourism posters. It is the largest island in central Dalmatia, with several towns, villages and a dramatic Mediterranean landscape of steep cliffs, inky waters and pine forests. The interior is scattered with rocks – the result of the backbreaking labour of women who, over hundreds of years, gathered the rocks to clear land for vineyards and olive, fig, almond and sour-cherry orchards.
Krka National Park
Extending along the 73km River Krka, the Krka National Park runs from the Adriatic near Šibenik inland to the mountains of the Croatian interior. It's a place of waterfalls and gorges, with the river gushing through a karstic canyon 200 metres deep. Sights built by humans are also a major draw of the region, the area's remoteness attracting monks who constructed their monasteries here.