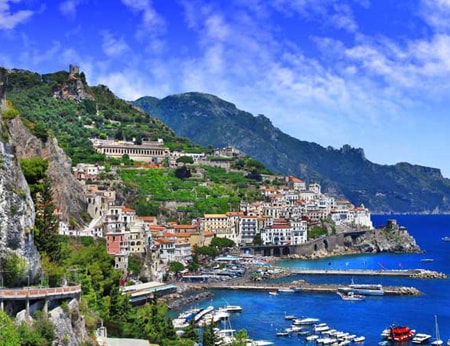 With its vast Mediterranean coastline, Italy has left a significant mark on Western history and culture. It is a country that inspires, exhilarates, and moves like no other, and it is home one of the world's finest collections of art, jaw-dropping architecture and exquisite cuisine. [ReadMoreMob]
Italy has more UNESCO World Heritage cultural sites than any other country on the planet. Its capital, Rome, is home to the Vatican as well as a swathe of landmark ancient ruins, such as the gladiatorial Coliseum. The volatility of Italy's extraordinary landscape is on view at Pompeii and Herculaneum, while its sheer beauty comes to life across the fields of Tuscany.
The country's turbulent history and how the pendulum of prosperity has swung back and forth across the centuries is writ large across its ports like Palermo, Genoa and the bustling cosmopolitan cities like Naples with its boutiques and cafés. Italy is a country that oozes romance. Take Venice, with its dreamy canals, iconic St Mark's Square and must-ride gondolas, or the perfect charm of the Italian Riviera's Sorrento, Capri or the achingly-wonderful Positano. [ReadMoreDesk]
Of course, food, or rather eating, is a major pastime in Italy, and there is always a raft of the finest ingredients like fresh olives, tomatoes, aubergines, olive oil and fish to be enjoyed. The regional wines and cheeses are second to none – visitors are genuinely hard pressed to find a bad meal anywhere.
Italian cruises are full of history, natural beauty and welcoming people and at the end of a voyage to this magical land, most are left with only one desire – to go back again and again.
Top Experiences
Portofino, Italy
Fishing
As Portofino is a famous fishing village, a trip here would not be complete without seeing the fishermen in action. Walk along the harbour, see the beautiful fishing boats and watch the fishermen bring in the day's catch, using their unique fishing techniques. And of course, you'll want to try the seafood once it's cooked too.
Parco Naturale Regionale di Portofino
This park has one of the highest concentrations of plant life in the Mediterranean. Created in 1935, the park offers beatiful natural scenes.
Venice, Italy
Gondola ride on the Grand Canal
The Grand Canal is the main waterway of Venice, following a natural channel that traces a reverse-S course from San Marco Basilica to Santa Chiara Church and divides the city into two parts. Slightly more than 2 miles (3 km) long and between 100 and 225 feet (30 and 70 metres) wide, the Grand Canal has an average depth of 17 feet (5 metres) and connects at various points with a maze of smaller canals. These waterways carry the bulk of Venetian transportation, as automobiles are banned throughout much of the city. In the heyday of the Venetian Republic, some ten thousand gondolas transported dignitaries, merchants, and goods through the crowded canals and lagoons of the water-logged city.
St Mark's Square
St Mark's Square is often referred to as the 'drawing room of Europe' and has long been the symbolic icon of Venice. Here you will find St Mark's Basilica, with its stunning golden façade mosaics, and marble and bronze statues; the Doge's Palace, the magnificent 14th century palace that was once the seat of power; the Bridge of Sighs and the Campanile, the city's tallest building.
Prosecco & Macarons
Italy's Champagne is a sparkling wine that originates from nearby Trieste. Although thought to have been invented in France, the macaron was in fact produced in the Venetian monasteries since the 8th century A.D. During the Renaissance, Catherine de' Medici's Italian pastry chefs made them when she brought them with her to France in 1533 upon marrying Henry II of France.
Cruises to Italy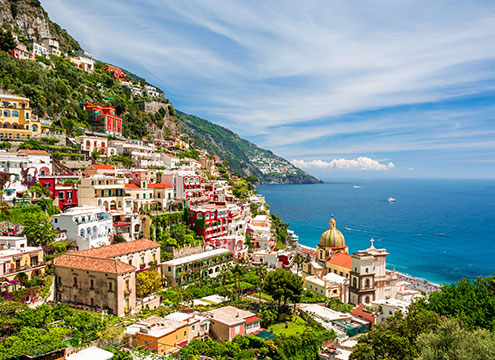 Departs: Dover • Sun 26 Apr 2020
22 nights • Boudicca • D2010
An intoxicating blend of spectacular natural beauty, remarkable history and authentic cultural experiences is sure to sweet you off your feet on this unparalleled Italian exploration.
Visit Naples and Civitavecchia, gateway to iconic sites such as Pompeii, Mount Vesuvius, the Colosseum; and have a chance to take in the Tuscan treasures of Pisa or Florence on tour from Livorno.
In among time ashore in sun-drizzled Sorrento and Amalfi, you'll witness the Amalfi Coast's spectacular scenery first-hand; while Portofino and Genoa showcase the delights of the Italian Riviera.
From £2,999pp
Fares Explained
|
What's Included
Departs: Southampton • Fri 16 Apr 2021
25 nights • Braemar • M2109
An outstanding voyage specially crafted to show you some of Greece's most unique and authentic sights and experiences, this cruise is packed with the diverse highlights of an array of stunning destinations.
The archaeological wonders of ancient towns, cultural and historical gems, beautiful beaches, postcard-perfect scenery and much more – your smaller-sized ship will bring you closer to it all with visits to gorgeous islands such as Crete, Rhodes and Kefallonia.
The pièce de résistance is a simply unforgettable scenic cruise of the narrow Corinth Canal aboard Braemar, the longest ship to pass between this incredible waterway's imposing, carefully carved cliffs.
From £4,499pp
Fares Explained
|
What's Included
Departs: Liverpool • Tue 04 May 2021
18 nights • Black Watch • W2109
Sail into the Mediterranean in the spring and succumb to the scenic, historical and cultural charms of sun-bathed Spanish, Italian and French destinations on this enchanting island-hopping adventure.
Uncover Menorcan highlights such as impressive Monte Toro and glorious beaches; and take advantage of time in Mallorca to explore charming Palma, or take a scenic train ride to beautiful Sóller.
Marvel at the dramatic Prunelli Gorges on the fabulous French Island of Corsica; enjoy the scenery, wines and traditions of Sardinia, Italy; and revel in the rich history of Valletta, Malta's ancient capital.
From £2,499pp
Fares Explained
|
What's Included