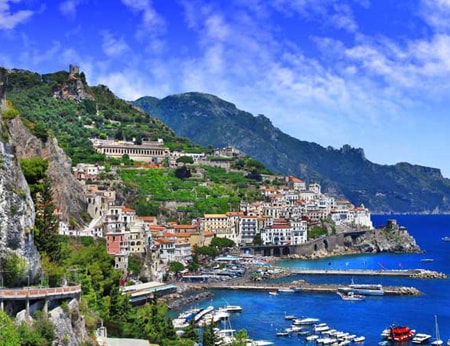 With its vast Mediterranean coastline, Italy has left a significant mark on Western history and culture. It is a country that inspires, exhilarates, and moves like no other, and it is home one of the world's finest collections of art, jaw-dropping architecture and exquisite cuisine. [ReadMoreMob]
Italy has more UNESCO World Heritage cultural sites than any other country on the planet. Its capital, Rome, is home to the Vatican as well as a swathe of landmark ancient ruins, such as the gladiatorial Coliseum. The volatility of Italy's extraordinary landscape is on view at Pompeii and Herculaneum, while its sheer beauty comes to life across the fields of Tuscany.
The country's turbulent history and how the pendulum of prosperity has swung back and forth across the centuries is writ large across its ports like Palermo, Genoa and the bustling cosmopolitan cities like Naples with its boutiques and cafés. Italy is a country that oozes romance. Take Venice, with its dreamy canals, iconic St Mark's Square and must-ride gondolas, or the perfect charm of the Italian Riviera's Sorrento, Capri or the achingly-wonderful Positano. [ReadMoreDesk]
Of course, food, or rather eating, is a major pastime in Italy, and there is always a raft of the finest ingredients like fresh olives, tomatoes, aubergines, olive oil and fish to be enjoyed. The regional wines and cheeses are second to none – visitors are genuinely hard pressed to find a bad meal anywhere.
Italian cruises are full of history, natural beauty and welcoming people and at the end of a voyage to this magical land, most are left with only one desire – to go back again and again.