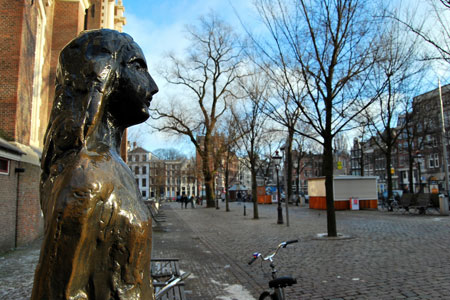 Golden Age canals lined with elegant merchant homes is the familiar backdrop for the Netherlands's historic capital, Amsterdam. Established in the 17th century with the construction of the River Amstel dam, this celebrated port offers everything from treasure-packed museums and antiquarian bookshops to chic boutiques and convivial cafés. Equally, art is never far away in this hub of uber-creative design. One noticeable thing about the city is that, some 150 years after its industrial heyday, Amsterdam is once again awash with producers. [ReadMoreMob]
Amsterdam has some 40 museums, and the Museum Quarter boasts three of the most famous: the Rijksmuseum has paintings from Rembrandt, Vermeer and Frans Hals; the Van Gogh Museum; and the Stedelijk Museum of Modern Art, displays work from Manet to Picasso. The Anne Frankhuis where Anne Frank and her family hid from German troops during the World War II, is an experience many visitors seek. [ReadMoreDesk]
Whether on boat or bike - there are more bikes than permanent residents - exploration of the city is relatively straightforward, and a tour of the Canal Ring district, a UNESCO World Heritage site, is not to be missed. Seemingly stuck in the 17th century, the district has been recognised for its unique cultural and historical values, and is home to many exclusive gabled facades and their celebrity owners.
Destination Highlights
Anne Frank House
No visit to Amsterdam is complete without a visit to Anne Frank House, to see where she and her family lived in hiding for more than two years during World War II. Anne's original diary and other notebooks can be found on display in the museum. Please note Anne Frank House are not taking any group bookings at the time of print.
Amsterdam Canals
Amsterdam is a truly stunning city with a perfect backdrop to enjoy a canal cruise – what a memorable and magical way to discover the city's sights. You can experience all types of canal cruises – there are hop on hop off services, evening cruises, candle-lit tours plus many more options.