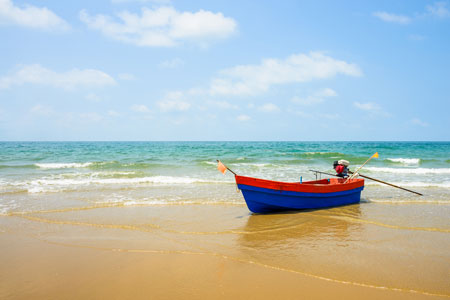 Praia is the capital of Cape Verde, the amazing volcanic archipelago of ten islands and five islets remotely located some 400 miles off the coast of West Africa. This unique, unspoilt destination was a Portuguese territory until independence in 1975, and Praia sits on the southern tip of Santiago Island.
The attractive old town centre, called the 'Plateau' by locals, is on a raised area overlooking the Atlantic Ocean, and has a traditional Portuguese feel.[ReadMoreMob] A number of museums and the neoclassical town hall and cathedral are all worth visiting. Smart shops and restaurants cluster in the Achada de Santo António quarter.
This beautiful island settlement benefits from excellent weather all year round, and around the bay, many fabulous beaches can be enjoyed including Quebra, Canela and Praínha.
Top Experiences
Cidade Velha, Praia
The country's old capital was the first city to be built by Europeans in West Africa, and today is a registered UNESCO World Heritage Site. Located in the south of the island of Santiago, the town features some of the original street layout impressive remains including two churches, a royal fortress and Pillory Square with its ornate 16th century marble pillar.
Funaná, Praia
Funaná is a rousing, accordion-based style that evolved from the music of African slaves in rural communities on Santiago, and was banned before independence in 1975 because the Portuguese colonialists considered the songs subversive.