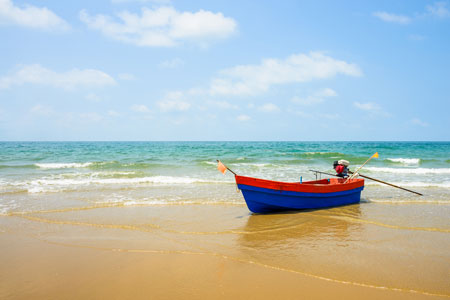 Praia is the capital of Cape Verde, the amazing volcanic archipelago of ten islands and five islets remotely located some 400 miles off the coast of West Africa. This unique, unspoilt destination was a Portuguese territory until independence in 1975, and Praia sits on the southern tip of Santiago Island.
The attractive old town centre, called the 'Plateau' by locals, is on a raised area overlooking the Atlantic Ocean, and has a traditional Portuguese feel.[ReadMoreMob] A number of museums and the neoclassical town hall and cathedral are all worth visiting. Smart shops and restaurants cluster in the Achada de Santo António quarter.
This beautiful island settlement benefits from excellent weather all year round, and around the bay, many fabulous beaches can be enjoyed including Quebra, Canela and Praínha.
Top Experiences
Cidade Velha, Praia
The first city to be built by Europeans in West Africa, Cidade Velha features impressive remnants from the Age of Discovery and beyond, including two churches, a royal fortress and Pillory Square, where public punishments for rebellious slaves took place.
Funaná, Praia
A rousing, accordion-based style that evolved from African slave music in rural communities, Funaná music was banned by Portuguese colonialists until independence in 1975. A ferrinho (metal bar scraped by another metal object) is used to create the rhythm.
Cruises to Praia
Departs: Southampton • Sat 20 Nov 2021
16 nights • Bolette • T2128
Enjoy an adventurous, enriching and immersive experience, as destinations in Cape Verde and Morocco provide chances to embrace authentic cultures, fascinating history and the local way of life.
Sample the lifestyle of Cape Verdeans in Praia, Mindelo and Porto Novo, with time to browse busy markets, learn of the native music, sample local produce and revel in the archipelago's beauty.
Behold the buzz of day-to-day Moroccan life amongst the souks, streets and squares of Agadir, Tangier and Casablanca, and seek-out iconic, world-famous landmarks too.
From £1,799pp
Fares Explained
|
What's Included
Departs: Southampton • Wed 19 Jan 2022
19 nights • Balmoral • L2202
Experience the colourful history, culture and spectacular beauty of glorious islands; the feel of soothing winter warmth on your skin; and the magic of Atlantic Ocean cruising.
Enjoy an authentic taste of Cape Verde; get amongst the bustle of African markets, move to the beats of traditional dance, marvel at spectacular landscapes, and much more.
Discover three beautiful Canary Islands on your Atlantic exploration, for volcanic landscapes and natural wonders; and indulge in the sweet scents and flavours of Madeira.
From £2,099pp
Fares Explained
|
What's Included