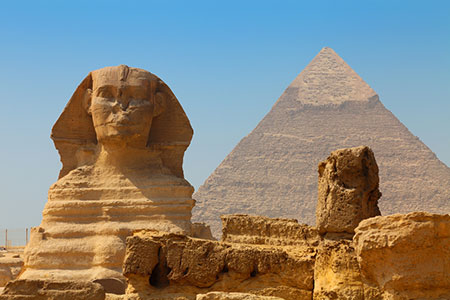 Bounded on the west by the Atlantic Ocean, on the north by the Mediterranean Sea and on the east by the Red Sea and the Indian Ocean, Africa is a vast plateau filled with wonder. Its sheer scale, natural beauty, diverse landscape, vibrant flora and fauna and welcoming people make Africa one of the most exciting and enchanting continents on the planet.
From the tropical rainforests of Uganda and Zanzibar's pristine coastlines to the rippling dunes of the Namib Desert and the Great Rift Valley's jagged mountains and deep canyons, the continent has a bewildering range of breath-taking scenery. The savannah of the Serengeti, the snow-capped peaks of Kilimanjaro and Cape Town's Table Mountain – all await the intrepid traveller. On the continent where human beings first came into existence, traditions and ancient rites can be found at every turn. From Egypt's pyramids to Bedouin treks and Morocco's Medina, interaction with Old Africa's illuminating past is unavoidable. [ReadMore]
For many, the continent's safaris are its biggest draw: the possibility of seeing lions, rhinos, hippos, elephants, gorillas, leopards and flamingos in their natural habitat is possibly Africa's greatest asset. An African safari may be viewed as a travel cliché these days, but just watching wild beasts in action in the Masai Mara, or a battle of wits between predator and prey in the Kruger National Park, still has the power to reduce visitors to a state of complete astonishment.
Travelling within Africa can at times be challenging, but one thing is for sure, one cruise to Africa simply isn't enough. The breadth of experiences that await discovery across this mysterious, majestic continent demands any number of journeys through its land.
Destination Highlights
Gorée Island
The island of Gorée lies off the coast opposite Dakar. From the 15th to the 19th century, it was the largest slave-trading centre on the African coast. Ruled in succession by the Portuguese, Dutch, English and French, its architecture is characterised by the contrast between the grim slave-quarters and the elegant houses of the slave traders. Today it continues to serve as a reminder of human exploitation and as a sanctuary for reconciliation.
Lake Retba
Less than an hour away from the capital city of Senegal there is an unusual lake that will surely catch your eye because of its unusual yet vivid pink colour. Lake Retba (or Lac Rose as it is known by locals) is separated only by some narrow dunes from the Atlantic Ocean and, as expected its salt content is very high. Its salinity content compares to that of the Dead Sea and during the dry season it exceeds it. Its distinct pink colour is caused by the Dunaliella salina bacteria, which is attracted by the lake's salt content. The bacteria produces a red pigment in order to absorb the sunlight, thus giving the lake its unique colour.