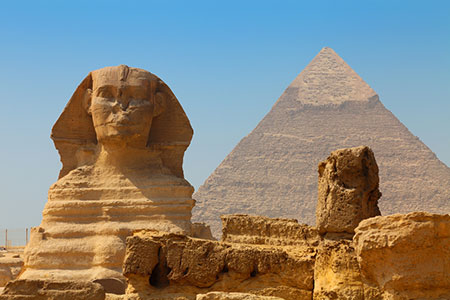 Cruising Africa offers a unique and captivating way to explore the diverse and enchanting continent, allowing travellers to encounter the rich cultural heritage, remarkable landscapes, incredible wildlife and lively cities.
Witness the continent's natural wonders, engage with local communities, and create unforgettable memories on a cruise to Africa. Whether you're exploring the bustling markets of Morocco, embarking on a safari adventure in Kenya, or visiting the ancient ruins of Egypt, experience an extraordinary journey filled with discovery and awe-inspiring views.
SUN, SAND AND SCENERY
Sail across the Indian Ocean and discover captivating islands like the Seychelles and Madagascar. Idyllic destinations for relaxation, widlife spotting and discovering local flora. Cruise South Africa's coastline for breathtaking panoramas and the opportunity to visit charming coastal towns with a stop at Mossel Bay cruise port.[ReadMoreDesk][ReadMoreMob]
The continent has a bewildering range of breathtaking scenery, from the rippling dunes of the Namib Desert to the jagged mountains and deep canyons of the Great Rift Valley. Marvel at the savannahs of the Serengeti and the snow-capped peaks of Kilimanjaro watching majestically over the valleys below. Don't forget Table Mountain awaits when we stop at Cape Town's cruise terminal.
WILDLIFE AND HISTORY
At every turn, ancient rites and traditions can be found. From the Great Pyramids of Giza and Bedouin treks to the Kasbah of Algiers, a UNESCO World Heritage site, interaction with the illuminating historical sites is unavoidable when you cruise North Africa.
Visit wildlife game reserves that will reduce you to complete astonishment. Watch wild beasts in action in the Masai Mara or a battle of wits between predator and prey in the Kruger National Park.
The breadth of experiences that awaits this mysterious, majestic continent demands many journeys. Fred. Olsen has made it more convenient to cruise Africa from the UK thanks to our no-fly cruises, calling at Southampton.