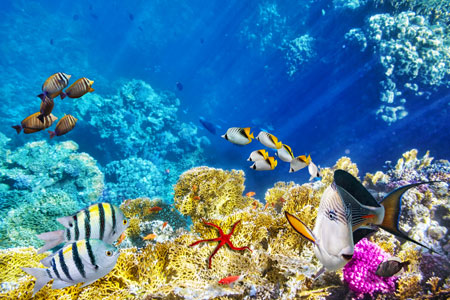 Why choose an Egypt cruise holiday?
Egypt, the link between Africa and the Middle East, dates back to the time of the pharaohs. Millennia-old monuments sit along the imposing Nile River Valley. No visit to Egypt would be complete without docking in Port Said to visit Cairo for the iconic Pyramids of Giza, sphinx and tombs. The Temples of Luxor, Karnak and the Valley of the Kings cement this country as a must for lovers of ancient history and has a welcoming, story-loving people. [ReadMoreMob] [ReadMoreDesk]
Surreal Scenery
The rugged, desert beauty of the Red Sea coast is a joy to explore and snorkelling among the astonishing coral reefs of Sharm el Sheikh is once again a safe reality. Egypt's landscapes are bold: watching sunrise over the stunning silhouettes of the White Desert or relaxing in the comfort of a hot spring in Siwa Oasis, deliver an endless fascination.
A cruise to Egypt is a timeless journey; the only worry is how to fit everything in. With so many wonders and sights to see, it is little wonder people return again and again.
Top Experiences
Alexandria, Egypt
Pyramids of Giza
The Pyramids of Giza are a spectacle not to be missed during your visit to Alexandria. The Great Pyramid of Cheops, which was once the tallest structure on Earth, is said to be constructed of over two million stone blocks, each one weighing two and a half tons.
The Nile
Widely regarded as the longest river in the world, the Nile drains eleven countries and was once the sole water source of one of the greatest civilizations in history.
Cleopatra
The last true ruler of the Ptolemaic Kingdom of Egypt, Cleopatra was also a naval commander and medical author. As a polyglot, she was the first Ptolemaic leader to learn Egyptian.