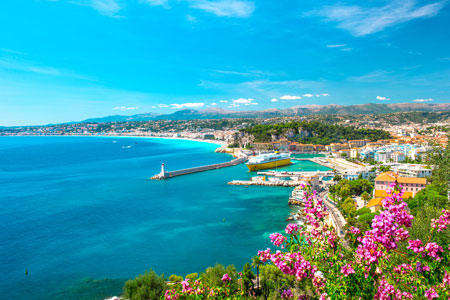 Experience True Mediterranean Culture
Embark on a voyage of a lifetime on a cruise around the Mediterranean and immerse yourself in the diverse cultures, landscapes, and architecture of this ancient region. From France's prehistoric cave paintings to Italy's Renaissance palaces and Greece's ancient ruins, a Mediterranean cruise provides ample opportunity to explore the rich history of the area. [ReadMoreMob]
Natural Beauty, History and Food Havens
Discover the breathtaking natural beauty of the Mediterranean, from Portugal's vast sands to the hidden coves along Turkey's rugged coast and the pine-clad cliffs of Sardinia. Set sail on an eastern Mediterranean cruise and marvel at the stunning Greek Islands, the timeless beauty of the Croatian coastline, and the breathtaking beaches of Tel Aviv.[ReadMoreDesk] From the ruins of the Acropolis in Athens to the Colosseum in Rome, the Mediterranean is a treasure trove of historical landmarks. Immerse yourself in the history of the Napoleonic city of Ajaccio or explore the ancient Pyramids of Giza from Alexandria. Foodies will find a haven across the Mediterranean islands, where culinary specialities abound, from Spanish tapas and Portuguese pastries to Turkish kebabs and the world's most famous wine vintages.
Romance at every corner
Discover the breathtaking coastlines of the western Mediterranean to the mesmerizing Amalfi Coast, known for its rocky cliffs and quaint villages. Savour the world-renowned wines of Tuscany and experience Venice with its enchanting canals and romantic gondola rides. A Mediterranean cruise from the UK offers an unforgettable journey of exploration and discovery. From cosmopolitan cities to ancient ruins, spectacular beaches, and incredible food, there is something for everyone to enjoy in this remarkable region.