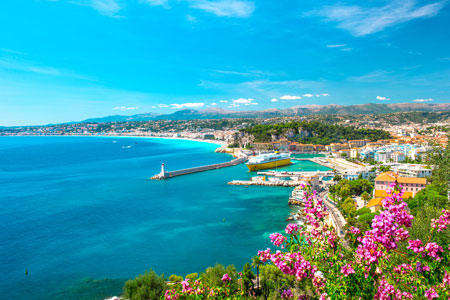 Experience True Mediterranean Culture
As the cradle of western civilisation, the Mediterranean boasts a cultural legacy that is hard to match. The world's largest inland sea is home to ancient ruins, legendary cities, fantastic food, awe-inspiring art, and sun-kissed beaches. In short, the Mediterranean is a visual and sensual feast. [ReadMoreMob]
The Region's Must-See Sights
A cruise through this extraordinary region provides the opportunity to experience the variety the area has to offer: [ReadMoreDesk] from the cosmopolitan cities of the Western Mediterranean to Italy, Sardinia, Greece, and Egypt in the east. Immersion into the culture and history of Naples and Herculaneum Granada's world-famous Alhambra Palace, Athens' Acropolis, the Napoleonic city of Ajaccio or a journey of discovery from Alexandria to the see the Pyramids of Giza – all are classic adventures that live long in the memory. The Mediterranean's past is on full view: France's prehistoric cave paintings; Roman monuments of power and ambition; Gothic cathedrals, Renaissance palaces and Baroque facades abound.
From the vast sands of Portugal to sheltered coves along Croatia's rugged Dalmatian coast and idyllic Sardinian hideaways, the beaches of the Mediterranean are truly amazing. A cruise along its shores will reveal an often inaccessible collection of the Med's fine scenery: picturesque bays, Riviera chic, old fishing villages and pine-clad cliffs.
Mediterranean Cuisine
Food and drink is the region's obsession. Whether nibbling on a chunk of freshly baked French bread with cheese and olives, or sipping a glass of Chianti, the Med is a haven for dedicated foodies. Culinary specialities are a constant draw: Spanish tapas, Portuguese pastries, Turkish kebabs – plus the world's most famous wine vintages. A Mediterranean cruise offers all this in a region where exploration and discovery never come to an end.
Top Experiences
Ajaccio, France
Napoléon Bonaparte
Born on the island of Corsica, Napoléon Bonaparte was a French military leader and emperor who conquered much of Europe in the early 19th century. From the names of streets, to the monuments and the National Bonaparte Museum, everything in Ajaccio evokes the memory of Napoléon Bonaparte. Perhaps the most impressive monument is the one in the Jardins de Casone. Napoleon's political and cultural legacy has ensured his status as one of the most celebrated and controversial leaders in human history.
Rugged scenery
To the west of Ajaccio, in the interior of Corsica, is the Prunelli River valley and its series of dramatic gorges featuring the dramatic flora and fauna of the island.
Cuisine
Corsican honey, brocciu cheese and charcuterie are all must-tries. Other culinary delights of the island include wild boar casserole and chestnut flour doughnuts.