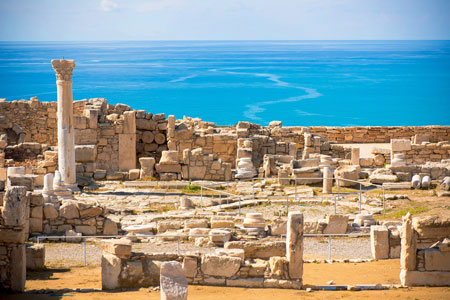 Despite the bitter divide between the Turkish Cypriot north and Greek Cypriot south, the beautiful island of Cyprus is one of the most welcoming Mediterranean destinations. Known for its beaches and rugged good-looks of its interior, the island is awash with wonderful wine regions. [ReadMoreMob]
Travellers have flocked to this saucepan-shaped gem in the Eastern Med for decades, and for good reason too. Beyond the sun-kissed stretches of sand, there awaits an island of compelling culture and scenic landscapes. Coastal Paphos is famed for its archaeological sites filled with ruins of palaces, tombs and mosaic-tiled villas that relate to the God, Aphrodite.
Boasting an intoxicating blend of unbroken, typically Mediterranean sunshine, glorious scenery and inviting beaches, compelling culture and fascinating historic towns and cities, Cyprus always makes for a rewarding cruise destination.