Greece & Greek Islands Cruises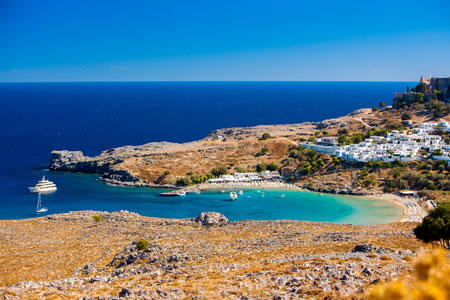 With thousands of islands throughout the Aegean and Ionian seas, Greece's influence across ancient history is such that it is often known as the cradle of Western civilization. Throw in sun-kissed beaches, whitewashed houses and Mediterranean diets, and a cruise to this mystical country reveals a land of passions and tradition.
Ancient Athens is classical Greece at its best: the Acropolis, the Temple of Zeus and the 5th-century B.C. Acropolis citadel with the Parthenon temple are amazing cinematic experiences. The dramatic grandeur of Delphi can be found in its ancient outdoor theatre and giant marble sculptures.[ReadMoreMob] And talking of drama, the Corinth Canal, an extraordinary engineering feat, often belies belief of those lucky enough to sail this remarkably narrow waterway.[ReadMoreDesk]
Go beyond the Greek mainland and some 1400 islands are waiting to be explored. They range from the party island of Mykonos to the grace and peace of Corfu and Rhodes. Visits to the Greek islands afford opportunities to relax on inviting warm sands, hike cobbled Byzantine footpaths and volcanic landscapes, spot incredible fauna such as dolphins and sea turtles, and cycle through lush forest.
When it comes to food, a cruise to Greece is a cruise into Mediterranean gastronomy. Traditional mousakka, crumbling feta and kebabs abound, but also a vast range of fish straight from the sea and unfamiliar herbs and mountain greens demand trying, all to be washed down with the local's drink of choice, Ouzo.