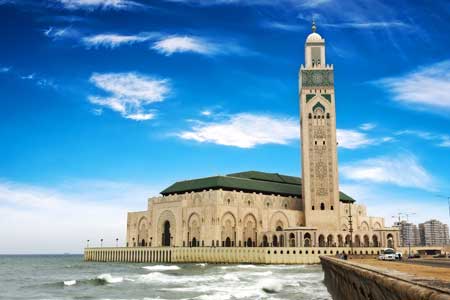 Just the word Morocco conjures up images of bustling souks, sand dunes and mystery. Immortalised by Hollywood, Casablanca is a mixture of Arabic tradition and western modernity, but you can still enjoy a tipple at Rick's café. It's also the perfect base from which to visit Marrakech with its intoxicating souks and winding alleyways. Morocco's cities are incredibly varied. Melilla offers a hint of Spanish Morocco, Tangier gives a glimpse of ancient life, whilst Agadir offers stunning beaches. [ReadMoreMob]
One of the greatest draws to this country are the souks. Bursting with colours and smells they provide a unique and fascinating shopping experience quite unlike anything you'll experience at home.
Can you picture yourself on a rooftop terrace, enjoying a glass of mint tea watching the hustle and bustle below? If you can, you need to book your cruise holiday to Morocco and enjoy one of the most memorable visits you've had in a long time.
Top Experiences
Casablanca, Morocco
Marrakech
Known as the 'Red City' thanks to the blush-coloured walls that surround it, Marrakech is a true kaleidoscope of colour, influenced by dozens of cultures throughout history. Constructed in the 12th century, the bricks are made from tabia, which is a mixture of red mud and water from the Hazou plains. However, anyone who has been to the city will know that its nickname doesn't do it justice.
Architecture
Casablanca is well known for its beautiful art deco architecture. Built in 1934, Villa Des Arts is one of Casablanca's leading works of art deco architecture. Hassan II Mosque, Hotel Guynemer, Wilaya (Prefecture) and The Palais de Justice are other notable buildings and monuments.
Cruises to Morocco
Departs: Southampton • Sun 22 Dec 2019
15 nights • Balmoral • L1933
Savour an unforgettable festive season with a chance to celebrate Christmas at sea; visit stunning destinations for an exciting end to 2019; and welcome the arrival of the New Year in style on this very special cruise to the Canaries, Morocco and Madeira on board
You're in for a wonderful holiday from start to finish, beginning with a magical Christmas celebration on board your ship before calling into Casablanca for a Boxing Day filled with memorable experiences, including a chance to marvel at the Hassan II Mosque and explore bustling local souks.
A post-Christmas island-hopping adventure kicks-off in the Canaries, visiting Tenerife, Gran Canaria and La Palma. Then it's on to Madeira to explore botanical gardens and scenic walking trails, and welcome the arrival of 2020 with views of one of the world's greatest New Year's fireworks displays.
From £3,199pp
Fares Explained
|
What's Included
Departs: Liverpool • Sun 25 Oct 2020
12 nights • Black Watch • W2030
Visiting a string of stunning cities where architectural treasures, fascinating historical sites and cultural highlights await, you'll find there's so much more to southern Spain than sun, sea and sand.
You can revel in Andalusia's authentic side with calls at Cádiz and Malaga, where ancient monuments and landmarks, traditional tapas bars and even masterpieces from Pablo Picasso are yours to uncover.
In the Murcian city of Cartagena, you'll find an impressive mix of Roman and modernist marvels, while a visit to Melilla – a delight for sightseeing – offers a rare chance to sample a slice of Spanish Morocco.
From £1,499pp
Fares Explained
|
What's Included