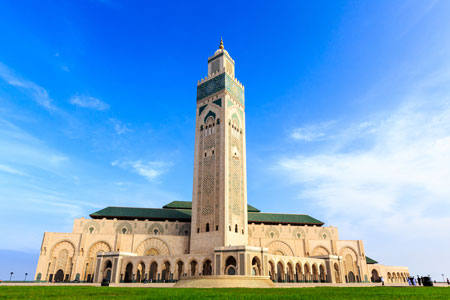 Casablanca is a large, cosmopolitan city, but the former French colonial post still offers those who visit the medina and Old City a taste of the past. The biggest city in Morocco – with chic bars and a wide choice of stylish restaurants – Casablanca often has a southern European feel. The Old Medina is small, but the crowded streets and tiny, overcrowded shops are an explorer's paradise. The attractive art-deco Ville Nouvelle is a legacy from the city's French past, and the enchanting Rialto Cinema is also worth discovering.
Casablanca's Jewish Museum, the only one of its kind in the Islamic world, offers excellent exhibits of Morocco's ancient synagogues, cemeteries and other Jewish landmarks.[ReadMoreMob] However, it's the breath-taking Hassan II Mosque that dominates the city. Built on a rocky outcrop, it can accommodate over 25,000 worshippers inside – and another 80,000 in the courtyard. The 210m minaret is the tallest in the world: from the top a laser beam points the way to Mecca at night. Guided tours can be made of the vast and impressive interior.
Top Experiences
The Hassan II Mosque, Casablanca
One of Casablanca's most iconic and most visited monuments is the Hassan II Mosque, a beautiful building which dominates the city's skyline. The mosque, which is one of the largest in the world, features a minaret 210 metres (688 feet) high – the tallest in the world. From the top, a laser beam points the way to Mecca at night. Built on a rocky outcrop of reclaimed land, the mosque can accommodate over 25,000 worshippers inside, and a further 80,000 in the courtyard.
Rabat, Casablanca
One of the country's four imperial cities, Rabat is Morocco's capital and a UNESCO World Heritage Site. Although not as bustling as its imperial counterpart, Marrakech, Rabat is nevertheless impressive, home to striking monuments, an ancient medina and the royal palace.
Marrakech
Known as the 'Red City' thanks to the blush-coloured walls that surround it, Marrakech is a true kaleidoscope of colour, influenced by dozens of cultures throughout history. Constructed in the 12th century, the bricks are made from tabia, which is a mixture of red mud and water from the Hazou plains. However, anyone who has been to the city will know that its nickname doesn't do it justice.
Architecture
Casablanca is well known for its beautiful art deco architecture. Built in 1934, Villa Des Arts is one of Casablanca's leading works of art deco architecture. Hassan II Mosque, Hotel Guynemer, Wilaya (Prefecture) and The Palais de Justice are other notable buildings and monuments.
Cruises to Casablanca
Departs: Liverpool • Tue 26 Nov 2019
11 nights • Black Watch • W1927
You're in for inspirational sights and cultural highlights galore, as Black Watch takes you to diverse destinations in Morocco, Spain and Portugal to reveal countless 'must-visit' attractions in a collection of magnificent cities.
After a relaxing sail south from Liverpool, enjoy five-consecutive days filled with highlights including interesting museums, ancient and architectural wonders, world-famous religious sites and much more besides.
You can climb the iconic rock in Gibraltar; marvel at Casablanca's majestic Hassan II Mosque, or tour to magical Marrakech; enjoy traditional tapas in Cádiz, which is also your gateway to Jerez – 'sherry capital of the world'; and uncover the monuments and landmarks of Lisbon and Oporto in Portugal.
From £1,299pp
Fares Explained
|
What's Included
Departs: Southampton • Sun 22 Dec 2019
15 nights • Balmoral • L1933
Savour an unforgettable festive season with a chance to celebrate Christmas at sea; visit stunning destinations for an exciting end to 2019; and welcome the arrival of the New Year in style on this very special cruise to the Canaries, Morocco and Madeira on board
You're in for a wonderful holiday from start to finish, beginning with a magical Christmas celebration on board your ship before calling into Casablanca for a Boxing Day filled with memorable experiences, including a chance to marvel at the Hassan II Mosque and explore bustling local souks.
A post-Christmas island-hopping adventure kicks-off in the Canaries, visiting Tenerife, Gran Canaria and La Palma. Then it's on to Madeira to explore botanical gardens and scenic walking trails, and welcome the arrival of 2020 with views of one of the world's greatest New Year's fireworks displays.
From £3,099pp
Fares Explained
|
What's Included