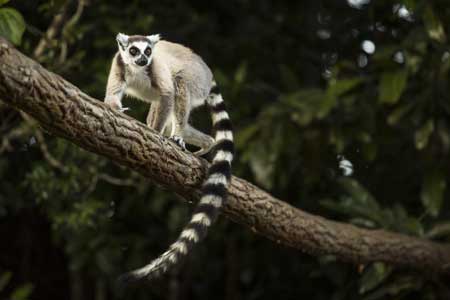 Situated in the glistening-blue Indian Ocean, Madagascar is an island nation just off the southeast coast of Africa, combining a beautiful tropical climate with fresh sea-air and exciting culture. [ReadMoreMob]
Madagascar is best known for its huge array of wildlife and plant life, thanks largely to its long geographical isolation. This means that visitors can experience some of nature's most diverse and rare creatures and plants, making cruises to Madagascar a real once in a lifetime opportunity. From the howling lemurs in the jungle to the beautiful flowers and exotic trees, exploring the island's natural assets that aren't found anywhere else in the world is something you'll never forget.
Once you have had a chance to experience the jungles and wildlife, why not take the time to enjoy some of the incredible beaches and blue waters, taking leisurely boat rides along the coastline and basking in the sun. Visit the local towns and explore the markets, sample the local cuisine and immerse yourself in the island way of life.
Top Experiences
Antsiranana (Diego Suarez), Madagascar
Amber Mountain National Park
Nestled near the northern tip of Madagascar, this mountainous park rises out of the drier surrounding landscape, has a cool climate and some wonderfully distinct scenery.
Taking its name from the resin that is found in the local trees, it is said to hold medicinal qualities and is still used by the local Malagasy people. Waterfalls, rainforests and volcaniclakes surround you, alongside an impressive level of biodiversity and plenty of endemic species of flora and fauna.
Red Tsingy
This sandstone formation made of small sandstone needles, formed and changed during land and mudslides after heavy rain are one of Madagascar's most breathtaking natural wonders. Located about 65km southeast of Diego, the pinnacles are made of laterite, an iron dioxide-rich soil with an intense red brick colour. The landscape is constantly changing with old needles eroding and new ones appearing from beneath, so, as an erosion monument, Tsingy Rouge is a constantly changing phenomenon.
Hell-Ville, Andoany, Madagascar
Wildlife
Madagascar is a paradise of endemic wildlife and the world's greatest biodiversity hotspot. From curious lemurs to colourful chameleons, there are plenty of fascinating species within reach of Hell-Ville at sites such as Lokobe National Park.
Ylang Ylang
Ylang-ylang is a wildflower commonly grown on Madagascar's many plantations and praised for its sweet-smelling aroma, which is used in aromatherapy. The long tradition of extracting ylang-ylang's perfume was popularised in the West by Chanel in 1921.
Mont Passot
The highest viewpoint on Nosy Be, Mont Passot stands at nearly 4,000 metres in height. En route from Hell-Ville to Mont Passot are several crater lakes, which are home to Nile crocodiles. These can be captured in all their glory from the summit.