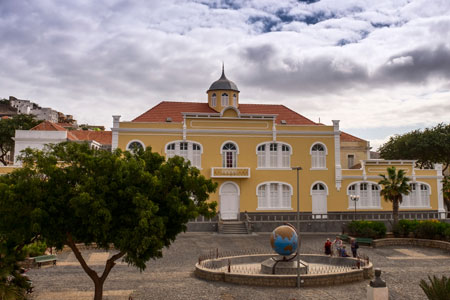 The port city of Mindelo on the volcanic archipelago of Cape Verdes, retains many features of its colonial past, and is known for its music, carnival atmosphere and blend of Portuguese traditions and Brazilian style.
Situated in Porto Grande Bay, Mindelo is surrounded by low mountains and boasts some of the best sea views and scenery in the region. The coastline is awash with natural points of interest, while the man-made Fortim d'El Rei – an abandoned fort that sits on top of a hill above Mindelo port – is well worth a visit.
The Municipal Market, with its vast fish market, is fascinating, as are the well-preserved Governor's Palace and City Hall – both attractive examples of Portuguese-style architecture. The Torre de Belém is a scaled-down replica of the ancient tower in Lisbon. The fine, wide esplanades around the harbour offer a host of interesting little cafés and tiny shops.
Destination Highlights
Morna
The morna is a music and dance genre from Cape Verde. Lyrics are usually in Cape Verdean Creole, and instrumentation often include cavaquinho, clarinet, violin, piano and guitar. Morna is widely considered the national music of Cape Verde.
Grouge
Grouge is a Cape Verdean alcoholic beverage, an aguardiente made from sugar cane. It's production is fundamentally artisanal, and nearly all the islands sugarcane is used in the production of grouge. Grouge is produced on San Anto Island, but Mindelo is the main market for San Anto products. It is also the basis of a Cape Verde cocktail known as 'ponche', which includes lime and molasses.