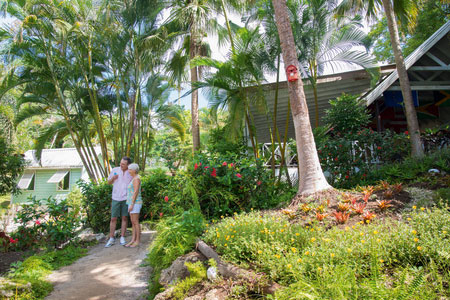 The Caribbean is a melting pot of cultural influences, and each island of this extensive archipelago carries its own individual charm. Many visitors dream of white sandy beaches fringed with palms, crystal clear waters, historic waterways and bustling towns, but rainforests, dormant volcanoes, colourful reefs, creole cuisine and toe-tapping music are also thrown into the mix. [ReadMoreMob]
Fred. Olsen's Caribbean Cruises typically take in the islands of Dominica, St Kitts, Antigua and Barbados, and include gems such as Bonaire, Curacao and Tortola. Each itinerary allows you to get beneath the surface of this incredible region, with authentic experiences such as opportunities to gain an insight into the life of a cocoa farmer in Grenada and try your hand at harvesting cocoa beans; assist communities in their post-hurricane recovery in Dominica; and visit schools in St Lucia, to make a valuable contribution to the local community. Of course, there are chance to top-up your tan on golden sands, watch sublime sunsets and sip on well-earned tropical cocktails too, with plenty of time to unwind. [ReadMoreDesk]
For those in search of something more active it's also brimming with things to see and do. Uncovering legendary tales of pirates on Tortola; riding the St Kitts Sugar Train; diving in search of sea turtles off the coast of Barbados; hiking through the botanical wonderland of easy-going Basseterre; or marvelling at bubbling mud pools and hot springs of St Lucia's stunning Pitons area – all this and more awaits discovery.
The Caribbean is a paradise of pristine shores and sapphire seas, exotic marine life and laid-back culture, and a cruise hopping around its islands ensures life doesn't get any better than this.
Reviews
Interested in booking one of our cruises? Why not have a look at our latest Feefo trusted reviews for this destination and see what other guests have said about their experience.
Caribbean Return (M1906)
Mr Greenwood
(24/04/2019)
Caribbean Return (M1906)
Mr McBrearty
(22/04/2019)
Caribbean Return (M1906)
Trusted Customer
(22/04/2019)
Caribbean Return (M1906)
Trusted Customer
(20/04/2019)
Caribbean Return (M1906)
Trusted Customer
(19/04/2019)
Caribbean Return (M1906)
Trusted Customer
(19/04/2019)