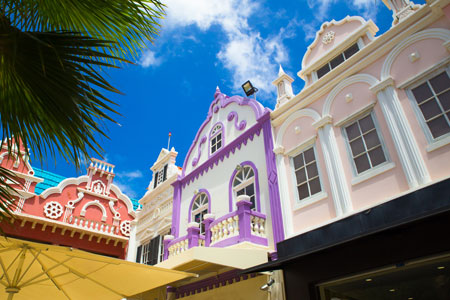 The 'A' of the Caribbean's ABC Islands (Aruba, Bonaire and Curacao), is home to some of the best beaches found anywhere in the world and offers relaxation, balmy sunshine, clear waters and natural beauty. Aruba's cute, compact capital also boasts superb dining, great shopping and a rich and varied nightlife. [ReadMoreMob]
Located off the Paraguaná peninsula of Venezuela, Aruba is part of the West Indies in the Caribbean. Exploring the main town of Oranjestad, many do a double-take given the island's strong Dutch heritage is reflected in the orange facades of the town's architecture.
The real, natural Aruba is miles of glorious, quiet beaches and secluded coves. Queen Wilhelmina Park offers peace and tranquillity and a mind-boggling array of tropical plants, including the divi-divi trees that slope in the cool, south-westerly breezes. The sea life and shipwrecks that dot the island's reefs are a draw for adventurers coming to this peaceful paradise of very little rain - only twenty inches falls annually in this this jewel of the Lower Antilles.