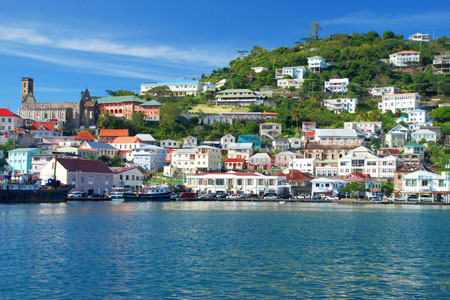 Grenada is known as the 'Spice Island' for good reason; the smell of nutmeg in the air is as noticeable as the island's spectacular beauty. Delicious, temptingly sweet fruits grown amongst the island's hills, and pristing, sun-soaked beaches provided a feast for the rest of your senses too. [ReadMoreMob]
A cruise to the mountainous, volcanic landscape of Grenada is a trip into the aromatic home of nutmeg, cinnamon, cloves, ginger and vanilla plantations. These natural flavours are used to great effect in the local cuisine. Grenadians like their food hot and spicy, Pepper Pot being a firm favourite – meat cooked with pepper, garlic and onions.
While many visitors take advantage of the opportunity to seek-out soothing sunshine on the coast, away from the postcard-perfect sands there is much to uncover: crater lakes, rainforests, coastal mangrove plantations and coral reefs. The capital of St George's sits in a horseshoe-shaped bay, close to the island's best beach, Grand Anse, and is home to many spice mills, rum distilleries and colourful markets offering an authentic taste of life in the Caribbean.