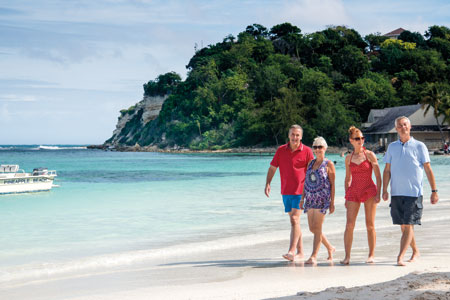 Antigua is one of the islands that make up the Caribbean nation of Antigua and Barbuda. It is quintessentially Caribbean, awash with candy-coloured villages, a rum-infused vibe and friendly locals that offer wide-smile welcomes. [ReadMoreMob]
Ringed with coral reefs in azure waters, Antigua is known for its sandy beaches – all 365 of them. This natural paradise is filled with vibrant flora and fauna, botanical parks and natural phenomenon, such as the Devil's Bridge, that demand exploration.
There is a distinct English accent to the island, which boasts the attractive English Harbour and the magnificently restored Nelson's Dockyard. Admiral Horatio Nelson made his base here in the 1780s, and the colonial-style capital, St John's, includes a marina and the Dockyard Museum. Walking trails lead up to Shirley Heights, a former military lookout with panoramic views across the islands and bays. [ReadMoreDesk]
When it comes to food, it is fish with a smattering of meat and hearty stews. And what else, other than a glass of Caribbean rum, to wash it down? The warmth of the sun and the peaceful nature of the islanders is further enhanced by their infectious steel-drum music.
For complete tranquillity, Antigua's smaller, undeveloped neighbour, Barbuda, is literally one single, divine beach, and one of the region's most significant Frigate bird sanctuaries.