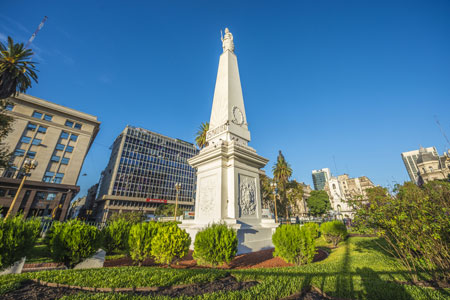 Stretched out along the Rio de la Plata, the nation's capital, Buenos Aires, is a rich mix of European splendour and Latino passion. Its centre, Plaza de Mayo, is lined with impressive 19th century buildings including Casa Rosada, the iconic, balconied presidential palace. It's also the location of the Pirámide de Mayo, built to celebrate Argentina's independence in 1810.
French and Italian-style palaces grace the Avenida de Mayo, while other attractions include the Teatro Colón opera house, and the modern MALBA museum, which exhibits Latin American art.[ReadMoreMob] The city's complexity is exemplified by the diverse architecture, unique urban landscape and boulevards lined with cafes, shops and galleries.
The food scene is increasingly dynamic, and satisfying the craving for one of the region's famously-juicy steaks is easy given Parrillas (steakhouses) sit on virtually every corner. A late-night cone of the local caramel ice-cream is a popular favourite, and an evening in this energetic city can be finished off with music and dancing in one of the many jazz clubs and tango bars.
Top Experiences
Iguazu Falls
The breathtaking Iguazu Falls are one of South America's most stunning attractions, and are a must-see for anyone visiting Argentina. A UNESCO World Heritage Site, the Iguazu Falls – a series of hundreds of waterfalls — extend for almost three kilometres (nearly two miles) and are considered one of the world's greatest natural wonders. The Falls are located in a beautiful national park on the border between Argentina and Brazil, and the Argentinean side is home to the tallest of the waterfalls – the mighty Devil's Throat, which drops more than 80 metres (262 feet).
Evita
Buenos Aires is famous for being the home of Maria Eva Duarte de Perón, or Eva Perón – also known as Evita. Born out of wedlock in 1919, Eva Perón moved to Buenos Aires in the 1930s, and became an actress. In 1945 she married Juan Perón, who went on to become the President of Argentina, and during her time as First Lady, she supported workers' rights, higher wages and women's suffrage. She also set up the Maria Eva Duarte de Perón Foundation, which distributed money that came from businesses and unions (not always with their permission), to those in need – a move not popular with the rich.