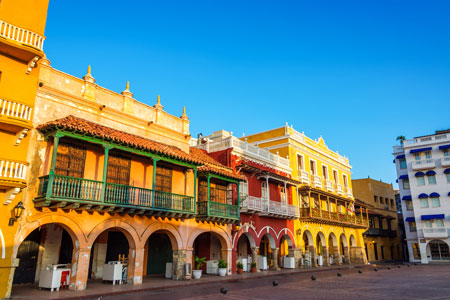 Colombia, on South America's northern tip, is unique as the only country on the continent to boast both Atlantic and Pacific coastlines. Its awe-inspiring landscape is marked by rainforests, the soaring Andes Mountains and numerous coffee plantations. [ReadMoreMob]
A country lush with Amazonian jungle, Colombia is a natural wonderland of diverse fauna and flora, thanks to its position on the equator and a vast range of ecosystems. A breath-taking mix of swamped rainforests, subtropical valleys, paradise islands and snow-capped mountains provides the perfect natural habitat for some of the world's most enchanting plant and animal life.
Colombia is also renowned for its rich colonial history, diverse cultures and captivating cities such as Bogotá – the colourful, sprawling capital – and charming Cartagena. An enthralling city, Cartagena is widely considered the most striking colonial city in South America. It reveals Colombia's fascinating Spanish-influenced heritage through beautiful, centuries-old architecture.