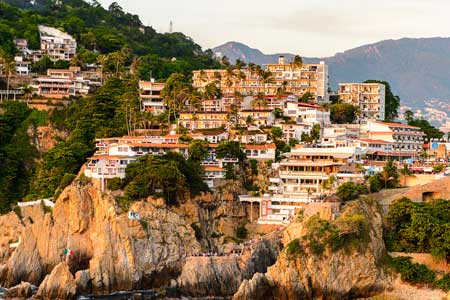 Forget the stereotypical sombreros and sleepy Gauchos, a cruise to Mexico really does offer something for everyone.The one thing you'll expect to find are stunning beaches and you won't be disappointed. Acapulco is world famous as being the playground of the rich and famous, but it's not exclusively for them. It's also home to brave cliff divers and a crazy nightlife. [ReadMoreMob]
Playa del Carmen is a quieter affair and also home to beautiful archaeological sites such as the Pyramid of Kulkulcan and the close by Mayan ruins at Chichen Itza.
One thing that really stands out in Mexico, apart from the warmth of the welcome you'll get, is the delicious food. Tacos, tortillas and quesadillas are accompanied by spicy salsa and cooling guacamole and are best washed down with tequila, mescal or the local rum.One thing's for certain, after taking a cruise holiday to Mexico once, you'll definitely want to come back for more.
Top Experiences
Cozumel, Mexico
Chichen Itza
No visit to Mexico would be complete without exploring Chichen Itza, one of the most famous Mayan temple cities and visited sites in the country. Meaning 'at the well of the Itza', this pre-Colombian city was the political and economic centre of the Mayan civilisation. Today, it is a UNESCO World Heritage Site, and its Pyramid of Kulkulcan was also voted one of the New Seven Wonders of the World.
Tulum
One of the most visited and best preserved archaeological sites in Mexico, Tulum is a walled Mayan city, perched on a cliff overlooking the Caribbean Sea. The only Mayan city built on the coast, Tulum is one of the most scenic archaeological sites in the region. The once-thriving city was built in the 13th century during the post-classical period, and it was one of the last cities to be inhabited by the Mayans.
Cozumel Snorkelling
Cozumel is one of the Caribbean's top destinations for snorkelling, boasting stunning, crystal clear waters, which are filled with many reefs and a whole host of colourful tropical marine life.