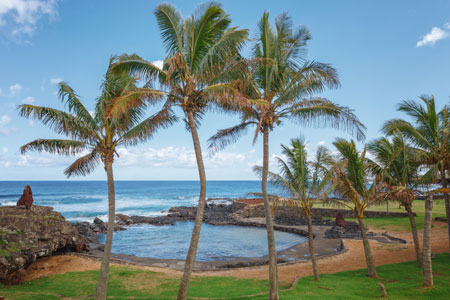 Chile is a country that morphs from the peace and serenity of Easter Island with its mysterious Moai statues, to the bustling city of Santiago in the blink of an eye. Add to that, gorgeous beaches, impressive mountains, geysers and vineyards as far as the eye can see, and Chile is an adventure of extreme proportions. [ReadMoreMob]
Chile is nature on a massive scale, with more than 6,000km of Pacific Ocean coastline. Isla Robinson Crusoe harks to a quieter way of life with a glimpse of the country's unique wildlife.
Away from the beaches, Chile's cities, such as Valparaiso, are crammed with markets, shops and fantastic restaurants that serve colourful and flavoursome Chilean cuisine. Santiago, Chile's capital, sits in a central valley between the Andes and the Chilean Coastal Mountain range and oozes with Spanish colonial charm.
Top Experiences
Puerto Chacabuco, Chile
Aysen Fjord
The fjords of Chile offer some of the region's most dramatic scenery and Aysen Fjord, leading up to Puerto Chacabuco, is no exception. Stretching around 70km and flanked by jagged landscapes, Aysen Fjord is a highlight of the region, best seen by boat.
Marble Chapels
On the shores of General Carrera Lake are a number of mineral formations called the 'Marble Chapels' situated across three main islets. Water has eroded the formations over the years to create intriguing caves partially submerged in the turquoise waters.
San Rafael Glacier
This dramatic, icy blue glacier, with its steep edges and sheer size, is a spectacular sight and one of the biggest glaciers in the whole Northern Patagonian Ice Field. Located in San Rafael Lagoon National Park, the glacier is best viewed by boat.
Patagon people
Mystery surrounds the Patagon people, or Patagonian Giants - inhabitants of the region who were reportedly up to four metres tall. First recorded by Ferdinand Magellan in 1520, the Patagonia Giants became a popular myth for many years to come.
Punta Arenas, Chile
Magellan monument
Explorer Ferdinand Magellan was the first European to cross the Pacific Ocean and is credited for discovering the eponymous Strait of Magellan. His legacy is honoured in many ways including an impressive statue in Plaza de Armas, central Punta Arenas.
Strait of Magellan
Linking the Atlantic and Pacific oceans, the Strait of Magellan separates mainland South America with Tierra del Fuego. Along its 350 mile stretch, there are various points of interest, including Los Pingüinos Natural Monument and several national parks.
Magellanic penguins
This tiny island in the Strait of Magellan is home to thousands of Magellanic penguins, characterised by the horseshoe of black feathers on their chests. These sociable creatures live in a colony and are can often be seen playing or building nests.
Kawésqar and Selk'nam people
There may be few Kawésqar and Selk'nam people left in Patagonia, but their rich cultures can still be experienced in the region. Despite the harsh weather conditions, both peoples have survived for hundreds of years, primarily through hunting and fishing.
Cruises to Chile
Departs: Buenos Aires • Wed 29 Jan 2020
20 nights • Balmoral • L2001B
Experience a Patagonian exploration of epic proportions on board Balmoral, taking in breathtaking waterways, awe-inspiring ice fields and a string of unforgettable destinations along the way.
After a visit to glamourous Punta del Este, enjoy two rare calls to the Falkland Islands to unearth the fascinating history, picturesque scenery and endemic wildlife of this famously disputed archipelago.
A Chilean adventure includes visits to four diverse ports, including Puerto Chacabuco, gateway to the mountains of Lower Patagonia and the Andres; and scenic cruising of spectacular snow-capped Chilean fjords.
Please call our Reservations Team for latest pricing and availability.
Departs: Buenos Aires • Wed 29 Jan 2020
47 nights • Balmoral • L2001BC
With scenic cruising of incredible waterways and visits to stunning South and Central American destinations, topped off with time in the Caribbean, you're in for an expedition packed with highlights.
There's two rare calls in the Falklands; chances to marvel at the spectacular scenes of Lower Patagonia, the Andes and Chilean Fjords; and three days in Peru, with time to tour to magical Machu Picchu.
You'll also experience a navigation of the remarkable Panama Canal, and visit two historic cities in Costa Rica and Colombia, before enjoying a taste of paradise in Curacao, Bonaire, Barbados, Antigua and St Kitts.
Please call our Reservations Team for latest pricing and availability.