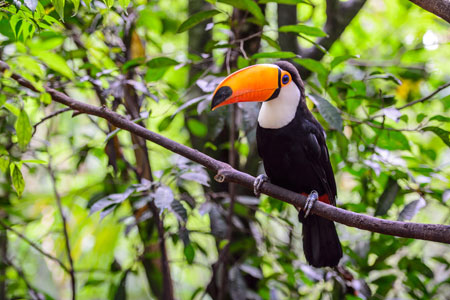 Brazil, South America largest country, stretches from the Amazon Basin in the north to the impressive Iguaçu Falls in the south. Its cultural heart, Rio de Janeiro, epitomised by its Christ the Redeemer Statue, the bustling Copacabana and Ipanema beaches, Sugar Loaf Mountain, and its raucous Carnival.
A cruise to Brazil offers a spectrum of experiences: colonial towns that have remained unchanged for centuries give way to red-rock canyons and coral-fringed tropical islands. This sprawling land is famed for its biodiversity, boasting the largest density of animal and plant life on the planet. Brazil's iconic wildlife includes pink dolphins, howler monkeys, toucans and macaws, and sea turtles, while the tranquil Tijuca Forest is home to over 5000 tropical plants and trees.
Brazil's joie de vivre is writ large across its cities, towns and villages. Where there's music, a carefree lust for life is often attached – be that the dancing in Rio's atmospheric samba clubs or rhythmic drumming on Sao Paulo's streets. Rio's world-famous carnival is legendary and one of the world's great cultural experiences. [ReadMore]
Whether it's a spot of extravagance at world famous resorts, a cultural exploration of stunning cities, or an journey into Amazonian heartlands, Brazil offers adventures of a lifetime.