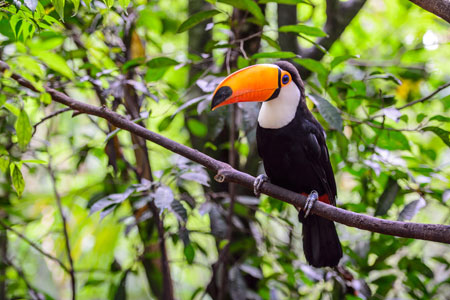 Brazil, South America largest country, stretches from the Amazon Basin in the north to the impressive Iguaçu Falls in the south. Its cultural heart, Rio de Janeiro, epitomised by its Christ the Redeemer Statue, the bustling Copacabana and Ipanema beaches, Sugar Loaf Mountain, and its raucous Carnival. [ReadMoreMob]
A cruise to Brazil offers a spectrum of experiences: colonial towns that have remained unchanged for centuries give way to red-rock canyons and coral-fringed tropical islands. This sprawling land is famed for its biodiversity, boasting the largest density of animal and plant life on the planet. Brazil's iconic wildlife includes pink dolphins, howler monkeys, toucans and macaws, and sea turtles, while the tranquil Tijuca Forest is home to over 5000 tropical plants and trees. [ReadMoreDesk]
Brazil's joie de vivre is writ large across its cities, towns and villages. Where there's music, a carefree lust for life is often attached – be that the dancing in Rio's atmospheric samba clubs or rhythmic drumming on Sao Paulo's streets. Rio's world-famous carnival is legendary and one of the world's great cultural experiences.
Whether it's a spot of extravagance at world famous resorts, a cultural exploration of stunning cities, or an journey into Amazonian heartlands, Brazil offers adventures of a lifetime.
Top Experiences
Rio de Janeiro, Brazil
Rio Carnival
The world's most famous party. Rio Carnival, a national holiday in Brazil, is a five day celebration that occurs every year 40 days before Easter. It officially starts on Friday and finishes on Fat Tuesday with the beginning of Lent and Ash Wednesday. There are carnival celebrations on virtually every corner of Brazil. The highlight of the carnival is the Samba parade, which is not to be missed.
Christ the Redeemer
No visit to Rio would be complete without getting up close to the magnificent statue of Christ the Redeemer. Crowning Corcovado Mountain, the effigy, which was built between 1922 and 1931, is the second largest statue of Christ in the world, measuring 38 metres (124 feet) tall, and depicts Christ with his arms wide open in a welcoming gesture. Its stunning location enables visitors to admire spectacular views over the city of Rio de Janeiro. Voted one of the New Seven Wonders of the World in 2007.
Sugarloaf Mountain
One of Rio's most famous sights, the imposing Sugarloaf Mountain stands proudly over Guanabara Bay. Rising 396 metres (1,299 feet) above sea level, the summit of the mountain — that is also known as, Pão de Açúcar — is a Registered Natural Landmark, and can be reached by two cable car journeys. From the top, it is possible – on a clear day – to admire impressive views over the city of Rio, its beaches, forested mountains, and, in the distance, the iconic statue of Christ the Redeemer. Named Sugarloaf due to its resemblance to blocks of refined sugar.
Salvador, Brazil
The Pelourinho
The heart of the old city is a postcard of Salvador. Founded in 1594 by Portuguese settlers, the pastel coloured renaissance buildings of the historic centre of Brazil's first city got its name from the main square in which slaves and criminals were once punished. It was also, from 1558, the first slave market in the New World, with slaves arriving to work on the sugar plantations. In 1985, UNESCO named the Pelourinho a World Heritage Site.
Samba
Samba is a lively, rhythmical dance of Afro-Brazilian origin in 2/4 time danced to Samba music. In the beginning of the 20th century, Brazilian Samba became more and more famous for its distinctive and catchy style of music, popularised by the black immigrants from Bahia in their attempt to incorporate the dance and the music into the local culture.
Cruises to Brazil
Departs: Southampton • Mon 06 Jan 2020
70 nights • Balmoral • L2001
Experience an extensive, in-depth exploration of South America as Balmoral guides you to a string of incredible destinations to bring you the very best of this intoxicating, culturally diverse and simply spectacular part of the world.
Calls at captivating cities and stunning islands in Brazil, Argentina, Peru, Uruguay, Chile and Colombia offer chances to uncover iconic landmarks including Christ the Redeemer; ancient sites such as Machu Picchu; beautiful beaches; and much more.
You'll also visit Curacao, Bonaire, Barbados, Antigua and St Kitts for sun-kissed beaches and an authentic taste of paradise in the sun-soaked Caribbean; as well as three beautiful Portuguese islands in the Atlantic, where lush, flora-rich landscapes await your exploration.
Adult Only Sailing
From £5,499pp
Fares Explained
|
What's Included
Departs: Southampton • Mon 06 Jan 2020
23 nights • Balmoral • L2001A
Under the guidance of Balmoral, you'll discover some of South America's most iconic sights and attractions – from world-famous landmarks to breathtaking beaches – in Brazil and Uruguay.
Visit Salvador, home to an enchanting UNESCO-listed Historic Centre; uncover gorgeous golden sands, waterfalls and lush rainforest at Ilhabela; and explore the attraction-packed Uruguayan capital, Montevideo.
The pinnacle is an overnight stay in intoxicating Rio de Janeiro, plenty of time to take in Christ the Redeemer, Sugarloaf Mountain, Copacabana Beach, traditional samba beats and much more.
From £2,499pp
Fares Explained
|
What's Included
Departs: Southampton • Mon 06 Jan 2020
43 nights • Balmoral • L2001AB
Experience the very best that one of the world's most intoxication regions has to offer, on this extensive, in-depth exploration of South America packed with countless highlights throughout.
Discover Ilhabela's beaches and lush rainforests, and revel in the icons of Rio de Janeiro in Brazil; and in Uruguay, explore Montevideo – the culture-rich capital – and glamourous Punta del Este.
Enjoy traditional tango in Buenos Aires, or tour to mighty Iguazu Falls; delve into the fascinating history of the Falklands; marvel at the glorious glaciers and snow-capped peaks of Chilean fjords; and uncover the 'Lost City' of Machu Picchu on tour in Peru.
From £5,599pp
Fares Explained
|
What's Included