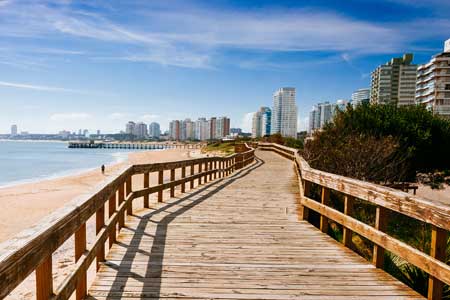 Uruguay has to be one of South America's best-kept secrets. As a cruise holiday destination it has just about everything you could want – glorious beaches, atmospheric cities, quaint towns and beautiful rolling countryside. Undoubtedly, one the must-see places to visit is its capital, Montevideo. This cosmopolitan city oozes with art deco buildings, wonderful shopping districts, a beachfront promenade and all the bars and restaurants you could want. [ReadMoreMob]
The narrow cobbled streets of the old town, Ciudad Vieja, are packed with historic buildings and buzzing plazas. Whilst in the city, you must visit the aptly named Bouza Winery to taste some of the local produce.
When it comes to eating, most restaurants are parrilladas (grill-rooms) with plenty of chorizo, seafood and meat on offer, plus you'll also find a lot of Italian food on the menu.Its compact size means that during your cruise to Uruguay you will be able to see a good part of the country, but you'll find yourself wanting to return to check out the parts you missed first time round.
Top Experiences
Montevideo, Uruguay
La Rabida Ranch
More than three quarters of Uruguay is accounted for by its estancias (ranches), which were inhabited in the 18th and 19th centuries by nomadic, heroic cowboys known as 'gauchos' (a national symbol). La Rabida is a working example, over a century old.
Chivito sandwich
No visit to Uruguay would be complete without a mouthwatering chivito – a sandwich consisting of beef, tomato, mozzarella, olives and mayonnaise. Other common additions include bacon, ham, fried egg, lettuce and bell peppers.
Isla de Flores
This small island, reachable by boat, is, among other things, a former political prison, and has a historic lighthouse. Over 30 species of bird reside on the island. It has been nicknamed 'Seal Island' due to its vast quantities of South American fur seals.
Candombe
Candombe derives from African slaves and has been an integral part of Uruguayan culture for centuries. Its unmistakable rhythm is created by three drums: chico, piano and repique. The combination of music, dance and costume creates a carnival atmosphere.
Punta del Este, Uruguay
Isla de Lobos
The 'Isle of Wolves' is in fact home to the largest colonies of South American sea lions and South American fur seals in the Western Hemisphere. In addition, southern elephant seals and orcas have been known to frequent the area.
Beaches
South America is known for its warm climate and beautiful beaches. Within the Punta del Este area, both Playa Mansa and Playa Brava are popular choices, the latter also home to an unusual sculpture titled La Mano (The Hand) which emerges from the sand.
Whale Watching
Between June and October, southern right whales migrate to the waters off the coast of Uruguay, and in some places where the water is deep enough, these magnificent creatures will come close enough to the shore to be spotted from the beaches.
Chivito sandwich - Punta del Este
Uruguay's national dish translates as 'little goat', despite goat meat not typically featuring in this delicious sandwich. More commonly you will find thinly sliced beef, mozzarella, olives, tomato and mayonnaise, served alongside French fries.
Cruises to Uruguay
Departs: Southampton • Tue 04 Jan 2022
79 nights • Bolette • T2201
Immerse yourself in an intoxicating blend of history, culture and beauty as you discover iconic destinations and unforgettable highlights on an epic, in-depth exploration of Latin America.
You can have a private mass at Rio's legendary Christ the Redeemer; dance the tango in Buenos Aires; tour to magnificent Machu Picchu; and much more.
Scenic cruising by Cape Horn; through the Chilean Fjords spectacular mountains and glaciers; and navigating the Panama Canal will create everlasting memories.
From £8,299pp
Fares Explained
|
What's Included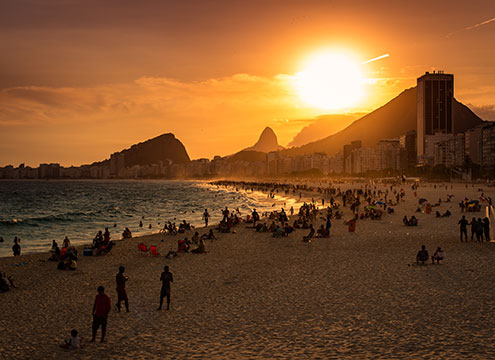 Departs: Southampton • Tue 04 Jan 2022
25 nights • Bolette • T2202
Seek out some of Brazil's most iconic attractions, from the world famous landmarks of Rio de Janeiro to legendary rainforests, on this epic voyage.
You can revel in unrivalled views from Sugarloaf Mountain, watch the sunset from Copacabana Beach, have a private mass at mighty Christ the Redeemer, and much more.
Explore historic Salvador and uncover gorgeous natural treasures at Ilhabela, plus visit attraction-packed Montevideo in Uruguay and a trio of beautiful Atlantic Ocean islands – Tenerife, Madeira and São Vicente.
From £3,599pp
Fares Explained
|
What's Included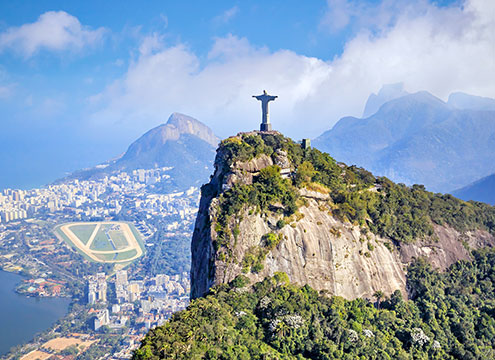 Departs: Southampton • Tue 04 Jan 2022
49 nights • Bolette • T220203
Experience the very best that one of the world's most intoxication regions has to offer, on this extensive, in-depth exploration of South America packed with countless highlights throughout.
After crossing the Atlantic, discover authentic Brazil, from the iconic sights and sounds of Rio de Janeiro to golden beaches and Atlantic rainforests within reach of Ilhabela.
Experience the contrasts of Patagonia in Argentina and Chile; discover arid frontiers and wonderlands of snow-capped peaks, plus experience scenic cruising of astonishing Chilean Fjords.
From £6,699pp
Fares Explained
|
What's Included