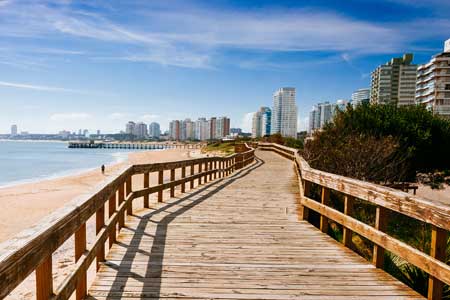 Uruguay has to be one of South America's best-kept secrets. As a cruise holiday destination it has just about everything you could want – glorious beaches, atmospheric cities, quaint towns and beautiful rolling countryside. Undoubtedly, one the must-see places to visit is its capital, Montevideo. This cosmopolitan city oozes with art deco buildings, wonderful shopping districts, a beachfront promenade and all the bars and restaurants you could want. [ReadMoreMob]
The narrow cobbled streets of the old town, Ciudad Vieja, are packed with historic buildings and buzzing plazas. Whilst in the city, you must visit the aptly named Bouza Winery to taste some of the local produce.
When it comes to eating, most restaurants are parrilladas (grill-rooms) with plenty of chorizo, seafood and meat on offer, plus you'll also find a lot of Italian food on the menu.Its compact size means that during your cruise to Uruguay you will be able to see a good part of the country, but you'll find yourself wanting to return to check out the parts you missed first time round.
Top Experiences
Montevideo, Uruguay
Legislative Palace
Montevideo is renowned for its stunning architecture, one of the most beautiful and important examples of which is the Legislative Palace, the seat of the Uruguayan government. Construction on this prominent building – which was declared a National Historic Monument in 1975 – began in 1908. The palace was inaugurated in 1925 to commemorate the 100 year anniversary of Uruguay's Declaration of Independence.
La Rabida Ranch
Uruguay is renowned for its estancias (ranches), which occupy more than three quarters of the land. A day at an estancia offers visitors the chance to learn more about living in the countryside. La Rabida is a sprawling working ranch, which is over 100 years old.
Solís Theatre
Located at the end of Independence Square, the Solís Theatre is Uruguay's oldest theatre and one of South America's most important, when it comes to classical music. Originally built in the 1850s in Neoclassical style, this iconic venue more recently underwent a restoration project. Today the theatre, said to be named after Juan Díaz de Solís – the Spanish navigator who discovered the River Plate – hosts performances of ballet, opera and popular music.
Punta del Este, Uruguay
Isla de Lobos
Isla de Lobos is located approximately 8.5km southeast of Punta del Este. It's home to 250,000 South American fur seals and more than 15,000 sea lions (the most important colony of sea lions in the world). The island is primarily made of rock and red granite.
Beaches
South America is known for its warm climate and beautiful beaches. Playa Mansa and Playa Brava are both popular beaches in the area.