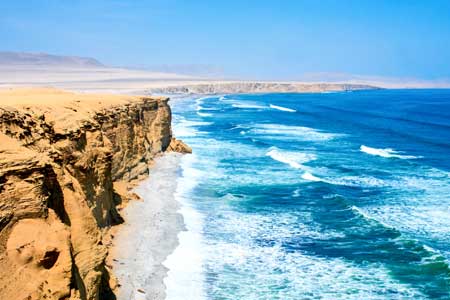 A cruise holiday to Peru has a lot to offer: bustling cities, stunning landscapes and ancient cultures. The first thing most people think of when Peru is mentioned is the legendary lost city of the Incas, Machu Picchu and with good reason. It must be one of the most awe-inspiring sights in the world. [ReadMoreMob]
From the port of Callo, it is within easy reach as are Lima, the stunning Lake Titkaka and Cusco with its cobbled streets and unique combination of colonial and religious buildings.
A cruise to Peru is all about the history, people and ancient ruins. But you mustn't forget the imposing mountain ranges, vast deserts, beautiful beaches and tropical jungles. The food also won't disappoint. Hot and spicy in nature, Peruvian food uses garlic and hot pepper to create its distinctive taste. Watch out for the pisco – the national spirit, which is brandy distilled from grapes.
All in all a 2017 or 2018 cruise to Peru is like stepping back in time. So grab your Indiana Jones hat and unearth some ancient Inca treasures.
Top Experiences
Callao, Peru
Machu Picchu
2,430 metres above sea level, this beautiful citadel is undoubtedly the most amazing surviving remnant of the Inca empire, the most advanced civilization in the Americas before European invasion.
Historic Centre of Lima
Known as the Ciudad de los Reyes (the 'City of the Kings'), Lima has been the capital of Peru for centuries and its architecture testifies to the early days of interaction with the Old World.
Islas Palomino
Just a short distance off the coast of Callao, these islands are home to a huge number of sea lions and nesting birds. A nature lover's paradise.
Paracas, Peru
Ballestas Islands
No visit to Paracas would be complete without discovering the famous Ballestas Islands, group of rocky islands located off the coast of Paracas, renowned for their wildlife. Often referred to as a mini Galapagos, the islands are home to birds, including countless cormorants and Inca terns, and they are a breeding ground for sea lions. Although it is not possible to step foot on the islands it is possible to get close to them by boat.
Sample Pisco
Peru's national drink, Pisco is a grape brandy which was first created by Spanish settlers in the 1600s. When the Spanish people first started distilling, they baptised the grape brandy with the name of 'Pisco', along with the port from where it was shipped out. The brandy is made from grapes grown south of Lima in the region of Ica.