Beyond the bustling metropolises of major European cities, a quieter, more charming side of Europe awaits discovery. Europe has an array of small town gems waiting to be discovered, offering a unique travel experience which can unlock a country's authentic side.
But which of Europe's small towns have the most to offer? To find out, we analysed thousands of TripAdvisor ratings to uncover the hidden hotspots off the beaten track that consistently earn the highest praise from visitors.
In this article, we'll introduce you to six of these remarkable small towns and share the top things to see and do in each. The bonus? Fred. Olsen Cruise Lines can take you to all of them, making it easy to add them to your travel list for the year ahead.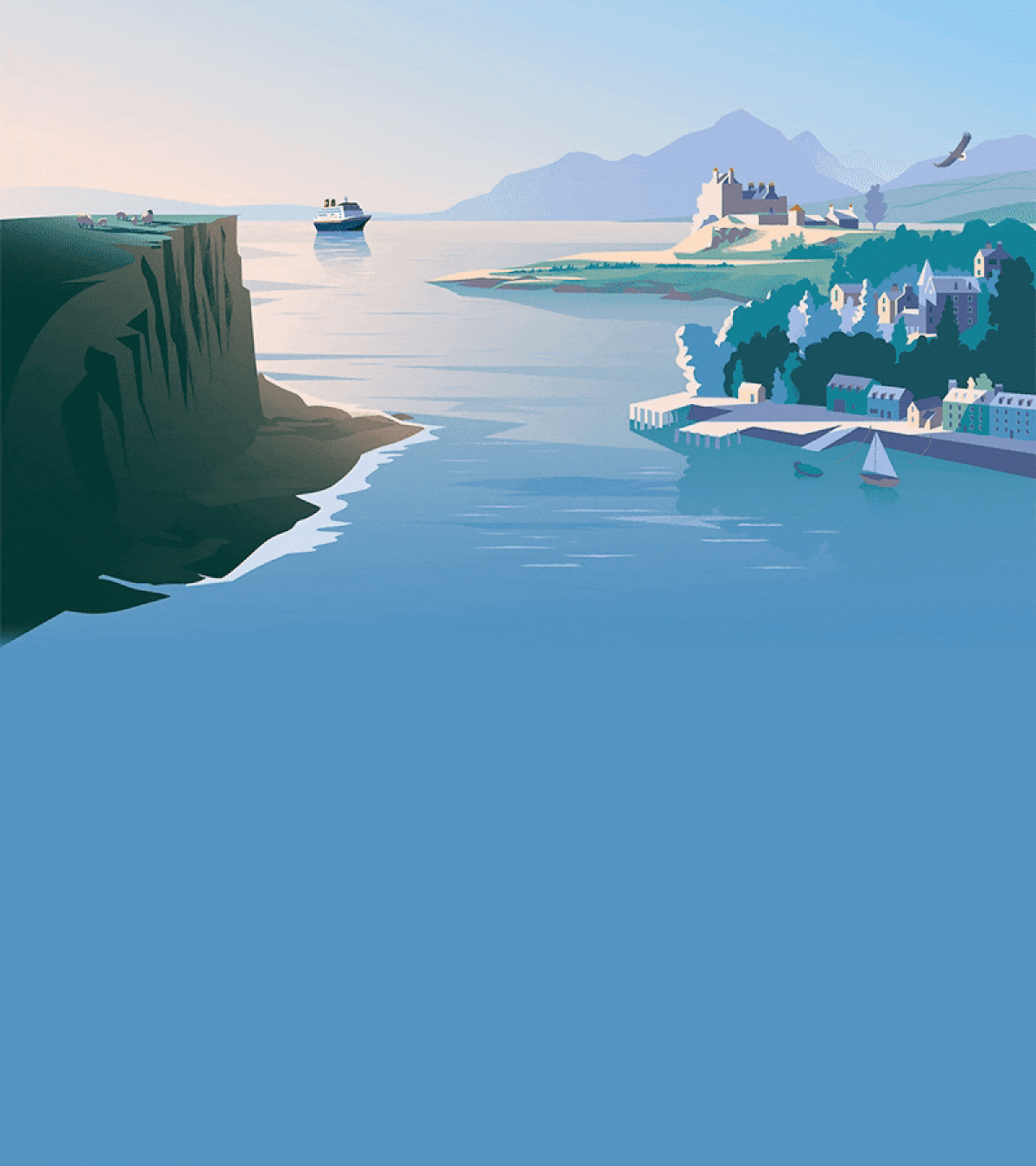 Experiencing Countries Like A Local

Travellers across the nation continue to seek out travel experiences which go beyond 'scratching the surface', offering a meaningful journey to learn a country's culture. Conde Nast Traveller highlighted 'educational itineraries' as a new travel favourite this year, with smaller cities and towns in particular enabling travellers to see a country authentically from a local lens.
Delving into the rising interest in travelling off the beaten track, American Express recently revealed that 68% of travellers pride themselves on finding lesser known holiday destinations and 76% of UK travellers crave a travel break that supports local communities - from eating at local restaurants to shopping at local businesses.
Following our recent discovery into the leading coastal culture capitals of the world, we also appreciate that for some travelling smaller is better, particularly if you are dreaming of a travel trip which offers a calmer big city escape but is bursting with culture, history and local delights.
If you are looking to impress friends and family with off-the-beaten track travel stories, we have the insider tips on leading small towns to visit next year - from the sun-soaked town of Sorrento which promises top-rated cuisine, to the charming Scottish town of Lerwick which offers a deep insight into Shetland's heritage.
Cobh, Ireland

The first destination on our list is Cobh, the picture-perfect island town in Cork Harbour. Described as "one of the most beautiful small towns in Europe" by Conde Nast Traveller, Cobh has one of the richest histories of any town in Ireland, with connections to some of the country's most significant events.
Cobh's Deck of Cards is a particularly popular attraction, offering a row of colourful houses set against the stunning backdrop of St. Colman's Cathedral. It's no surprise this spot is one of the most Instagrammable locations in Cork, with 'Spy Hill' being tipped as the place to be to capture the perfect shot. The neo-Gothic St. Colman's Cathedral, which dominates the town's skyline, is another highlight—providing brilliant harbour views.
You can continue your exploration of Cobh's past at the Cobh Heritage Centre, which takes visitors on a journey of life in Ireland throughout the 18th and 19th centuries. Another must-visit site is Spike Island, which has served various purposes throughout its history, including being used as an island prison in the celtic sea for over 400 years. Steeped in history, it is so large that even Alcatraz Island couldn't fit inside.
Sorrento, Italy

Sorrento is a gloriously sun-soaked coastal town in Campania, southwestern Italy. It's best known for its spectacular views across the Bay of Naples and its buzzing main square, the Piazza Tasso, which is recognised as the 'beating heart of Sorrento'.
This pretty town is the perfect place to wander, get lost, and enjoy stumbling upon sensational architecture. One such find in the historic centre is the Chiesa di San Francesco, a 14th-century church with a famous cloister and fascinating history.
It's also a food lover's paradise. The fertile volcanic soil yields delicious local produce like olives, tomatoes, peaches, cherries, and oranges. Known for its wealth of lemons, you shouldn't miss the chance to enjoy a unique dining experience in a lemon grove and to try its local specialities, including limoncello and lemon jam.
Other top attractions in Sorrento are its coastal escapes including the fishing village of Marina Grande for a spot of seaside charm or taking a dip in its protected beach of Bagni della Regina Giovanna. Known as Queen Joanna's Baths, it's a natural pool surrounded by Ancient Roman ruins, offering a stunning off-grid beach experience which the Queen of Naples once escaped to for romantic endeavours.
Lerwick, Scotland

Lerwick is Shetland's sole town, with a population of only 7,500. But despite its size, it's got plenty to offer and many stories to tell. It's rumoured that this town in Scotland initially thrived on smuggling profits when goods and contraband would be channelled through tunnels under Commercial Street.
Today, many of Lerwick's top sites and activities revolve around art and history. The Shetland Museum & Archives is a popular spot, telling the fascinating story of Shetland's heritage. It's home to many documents and artefacts covering all aspects of the islands' past. During the month of January, Lerwick Up Helly Aa, Shetland's biggest annual fire festival, is a major must-see spectacle which celebrates Shetland's history, with 'fire, feasting and fancy dress' to boot.
Shetland is also known as an island archipelago, boasting an abundance of seafood including less common fish like ling, lythe and John Dory. Meanwhile, beer enthusiasts shouldn't miss the Lerwick Brewery: the UK's northernmost and most remote brewery, founded in 2012. They craft a distinctive range of top-quality beers thanks to the island's mild winters, cool summers, pure water, and crisp air.
Argostoli, Greece

Argostoli is a charming seaside town on the island of Kefalonia in Greece. It's an ideal destination for those looking to combine the excitement of city life with the quintessential Greek experience: sun-soaked days, leisurely lunches, and pristine white beaches.
The Harbour, for instance, is a prime spot for observing the Caretta caretta (Loggerhead) sea turtles. They gather when the fishing boats return, hoping for a share of the day's catch. A bit further south, the De Bosset Bridge (formerly the Drapano Bridge), constructed in 1813, holds the title of the world's longest stone bridge over the ocean. It spans an impressive 689.9 metres across the bay of Argostoli. For more impressive views, Saint Theodore Lighthouse is known as a trademark of Kefalonia and is an ideal spot for watching a sunset and capturing stunning photos.
For those seeking a sun-lit escape by the water, Makris Gialos and Platis Gialos beaches both offer crystal clear waters and golden sands for the ultimate relaxing beach experience. Kefalonia Water Sports Centre offers an array of water sports activities for a more active coastal trip, including water-skiing and sea kayaking.
Kotor, Montenegro

Despite having just 22,000 inhabitants, Kotor—a fortified town on Montenegro's Adriatic coast—is immersed in tradition and history and offers unforgettable scenic views. Characterised by its old winding streets, strolling around Kotor will feel like taking a step back into Mediaeval times.
The old town of Kotor, one of the area's top sites, is characterised by its winding streets, charming squares and its breath-taking mountainous backdrop. It's a treasure trove of mediaeval wonders: Romanesque churches, including Kotor Cathedral, grace the historic landscape and create a captivating atmosphere. Kotor's religious architecture, which dates back to the 12th century, are unmissable attractions to explore.
Another highlight is Kotor's city walls, originally built in the 9th century to safeguard the town from invaders. Climbing to their highest point is a rewarding experience, offering panoramic views of the Bay of Kotor that are truly worth the effort. When night falls, the walls are illuminated—casting a magical glow over the city beneath.
Kotor is also known for its abundance of friendly cats which roam its small streets and this is even celebrated within its famous Cat Museum, which showcases feline-themed artwork and invites visitors to stroke the friendly neighbourhood cats.
Villefranche-sur-Saone, France

Villefranche-sur-Saône, located just 25 km north of Lyon in eastern France, is the capital of Beaujolais. The region is particularly famous for its wine, and visitors to Villefranche-sur-Saône have plenty of opportunity to try it: either at one of the local wine cellars or in a Bistrot Beaujolais, where menus are thoughtfully paired with the wines. To explore the terroir in more depth, you can also venture into the countryside on dedicated vineyard tours.
Among the town's other attractions is the Art Deco marché couvert. During weekend mornings, this lively covered market bustles with locals shopping for the finest local produce, including high-quality meat, cheese and charcuterie. Even for casual sightseers, the market offers a delightful sensory experience. Local cuisine is another town highlight, with the region supporting five, 3-star Michelin chefs and delicacies including pot au feu which is a slow-cooked beef stew and for sweet treats, bouchon Beaujolais are local sweets designed to look like a wine cork.
Art enthusiasts will also appreciate the Musée Paul-Dini in the town centre. This museum showcases the art and artists of the Rhône-Alpes region through a captivating collection of paintings from 1863 to the present day.
Looking to uncover a hidden gem?
If you are feeling inspired by these charming European small towns and want to experience their magic firsthand, take a look at our cruises from the UK and embark on a unique journey filled with history, culture, and breathtaking nature.
Methodology:
To uncover these top-rated European towns, Fred. Olsen Cruise Lines collated 20 towns they cruise to across Europe and then analysed the average score for all reviews for attractions within the town. Countries which are included within the research are as follows: Croatia, Ireland, Portugal, Italy, UK, Spain, Greece, Montenegro and France.
Data is correct as of October 2023.