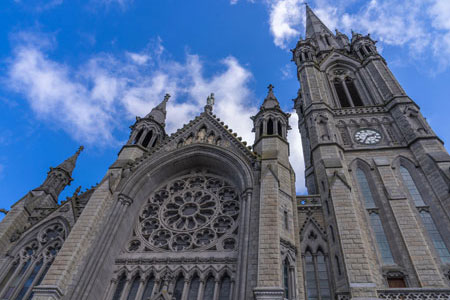 The charming seaside town of Cobh, situated in Cork harbour, has served as a route in and out of Ireland for centuries. Formerly known as Queenstown before locals reverted back to the old Irish name in 1922, Cobh was the embarkation point for 2.5 million people who emigrated to America from the 'Emerald Isle' between 1848 and 1950, and was famously the Titanic's final port of call on her ill-fated maiden voyage in 1912.
Today, the town sat in world's second largest natural harbour, is known more for its brightly coloured houses and imposing, Gothic revival-style St. Colman's Cathedral, which overlooks the harbour from a dramatically steep hill. At the centre, a number of attractions point to Cobh's fascinating past. The Cobh Heritage Centre examines the gruelling potato famine period, the town's museum explores Cobh's maritime heritage and the impact of RMS Lusitania's sinking nearby, and the Titanic Experience, where a virtual version of ship's infamous voyage can be experienced.
Top Experiences
St Fin Barre's Cathedral
Cobh is one of the gateways to the beautiful city of Cork. One of Cork's most iconic landmarks is St Fin Barre's Cathedral, whose spires dominate the city skyline. The cathedral is located close to where St Fin Barre, the patron saint of the city, is believed to have founded a monastic school.
Blarney Stone
The world-famous Blarney Stone is a block of stone set in the wall of Blarney Castle. The stone is shrouded in legend – some say it was the rock that Moses struck to produce water for the Israelites, while others claim it was Jacob's Pillow, brought to Ireland by the prophet Jeremiah. Thousands of people come from all over the world to kiss the stone, as doing so is said to give the gift of eloquence.
Jameson Whiskey
Having outgrown its original Dublin city home, the new Jameson Distillery is located in Midleton, County Cork, and is one of the area's top attractions. The original buildings here date back to the 1800s, and were used to mature Cork Distillery Whiskey – which is now known as Paddy Whiskey. Visitors to the Jameson Experience can learn more about the whiskey making process, and discover the techniques and machinery involved, before sampling a taste themselves.