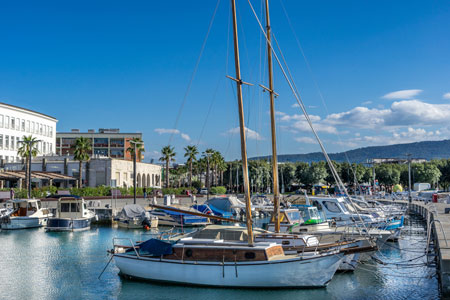 An island until the 19th Century, Koper is the main port in Slovenia and the gateway to Central Europe. The old town is abundant with architecture and cultural monuments. The richness of the culinary heritage, as well as the hospitality, kindness and attention of the native Slovenians, guarantees a pleasant visit.
Destination Highlights
Lake Bled
The small mountain spa town of Bled is located in the Southern Alps and is a true delight. Here you will find a beautiful emerald green lake, elegant mansions and a stunning medieval castle that overlooks the tranquil town. In the middle of the lake there is a small island, where you can climb the 99 steps to the Assumption of Mary Pilgrimage Church.
Piran
Piran is a small Venetian town made up of charming winding medieval streets, and is one of the bestpreserved historical towns in the Adriatic. Situated on the tip of a narrow peninsula, picturesque Piran is a real gem. In Piran you will find crumbling facades of ancient villas, the 19th
century Tartinijev TRJ Square, named after the composer Giuseppe Tartini, and the dramatically situated Church of St George Cathedral with its bell tower, perched on the hill overlooking the town and the sea. Ljubljana The charming city of Ljubljana has been referred to as the next Prague, with its thriving café culture, great architecture and fondness for poets. Ljubljana inspires all who come here.