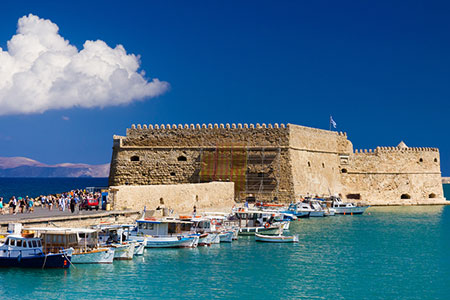 The history of Iraklion, the capital of Crete, stretches back over 5000 years to the time of the Minoans – Europe's first civilisation – and is a port city of remarkably well preserved fortifications, a fine, animated street market and atmospheric old alleys and museums.

Also known as Heraklion, the city's most sought-after highlight is the Minoan Palace of Knossos, an archaeological site that has amazing frescoes and baths to discover.[ReadMoreMob] Guarding the city's Venetian port is the 16th century Koules fortress, and the vast Heraklion Archaeological Museum exhibits classic Hellenic and Roman sculptures, frescoes, jewellery, wall-paintings, pottery and Minoan art.

Iraklion's notoriously congested streets have been dramatically improved in recent years with investment in infrastructure, which has included the redevelopment of the beautiful waterfront district. The city's stunning architecture gives way to high-end stores of Daedalou Street, and many fine restaurants. Away from the city's bright lights, there are plenty of outstanding ancient sights to uncover including the Martinengo Bastion and the Chanioporta Gate.
Top Experiences
Greek/Minoan History
Heraklion was once the site of the Minoan Palace and the centre of the famous civilization. This prolific society, considered the first advanced civilization in Europe, left behind many impressive artefacts, including the remnants of the Palace of Knossos.
The Battle of Crete/WW2
One of the most important battles of World War Two, the Battle of Crete's decisive action in May/June 1941 ended with the evacuation of the bulk of the Allied forces and informed airborne assault strategies on both sides.
Zeus
According to Greek mythology, the Dikteon Cave (Cave of Zeus) is the hideaway where the god was sheltered from his father, Chronos, whose demise at the hands of his son became a self-fulfilling prophecy. The site today is rich in stalagmites and stalactites.