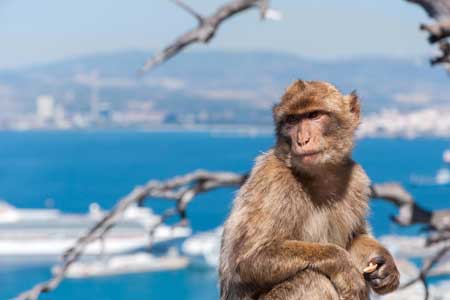 British overseas territory, Gibraltar, on Spain's south coast is dominated by a 426m-high limestone ridge: The Rock. The Rock of Gibraltar is a sentinel that guards the Straits, and the overtly-British town nestled between the European and African continents. Its atmosphere is all the more familiar due to its helmeted policemen, red pillar boxes, fish and chip shops, traditional pubs and Marks & Spencer shops.[ReadMoreMob]
Layers of fortifications on The Rock include the remains of a 14th-century Moorish Castle and the 18th century Great Siege Tunnels. The Europa Point Lighthouse and St. Michael's limestone cave light show are both well worth seeking out.
Resolutely British for nearly 300 years, Gibraltar's unique history is of interest but it's the camera-loving Barbary Apes that tend to steal the show.
Top Experiences
The Rock
The towering limestone Rock of Gibraltar stands approximately 426 metres (1,400 feet) high. The Upper Rock area is home to a nature reserve and over 200 Barbary macaque apes, along with St Michael's Cave and the Great Siege Tunnels. Enjoy a cable car ride up to the top of the Rock and admire the breathtaking panoramas.
St Michael's Cave
The magnificent St Michael's Cave comprises a network of approximately limestone caves, burrowed underneath and within the iconic Rock of Gibraltar. This natural wonder is one of Gibraltar's top attractions, with visitors flocking to see the caves' unusually-shaped stalagmites and stalactites.
Great Siege Tunnels
Also known as the Upper Galleries, this maze of tunnels was excavated into the Rock of Gibraltar during the Great Siege of 1779-1783. An amazing feat of both engineering and human effort, the tunnels were dug out using hammers, chisels, shovels and blasting powder. During World War II, Royal Engineers added more than 30 miles of tunnels to this complex.
Cruises to Gibraltar
Departs: Liverpool • Tue 26 Nov 2019
11 nights • Black Watch • W1927
You're in for inspirational sights and cultural highlights galore, as Black Watch takes you to diverse destinations in Morocco, Spain and Portugal to reveal countless 'must-visit' attractions in a collection of magnificent cities.
After a relaxing sail south from Liverpool, enjoy five-consecutive days filled with highlights including interesting museums, ancient and architectural wonders, world-famous religious sites and much more besides.
You can climb the iconic rock in Gibraltar; marvel at Casablanca's majestic Hassan II Mosque, or tour to magical Marrakech; enjoy traditional tapas in Cádiz, which is also your gateway to Jerez – 'sherry capital of the world'; and uncover the monuments and landmarks of Lisbon and Oporto in Portugal.
From £1,249pp
Fares Explained
|
What's Included
Departs: Southampton • Sun 28 Jun 2020
12 nights • Braemar • M2016
Taking you closer to three stunning cities, this thrilling adventure showcases the best of Andalusia, an absorbing region of spectacular scenery, traditional cuisine, incredible architecture and authentic cultures.
Docking overnight in the heart of Seville affords time to get under the skin of the Andalusian capital: seek-out significant historical and architectural wonders; and even catch a sultry flamenco show.
You can also savour Malaga's aesthetic and cultural treasures, such as the Alcazaba Fortress and the Picasso Museum; and explore Cádiz, with its fascinating ancient sites and renowned tapas bars.
From £1,649pp
Fares Explained
|
What's Included
Departs: Dover • Tue 01 Sep 2020
28 nights • Boudicca • D2023
Visiting five stunning cities in five different countries, you have a chance to delve deep into the remarkable ancient history, authentic flavours and breathtaking beauty of the Black Sea.
Step back to the days of Ottoman rule in Istanbul, home to famous landmarks such as Topkapi Palace and the Blue Mosque; and take the chance to visit wine valleys and tea plantations in Russia and Georgia.
You can explore Odessa's labyrinth-like Catacombs, and the Danube Delta – on boat tour from Constanta – too. What's more, Boudicca will also help you to experience the best of the beautiful Mediterranean.
From £4,499pp
Fares Explained
|
What's Included