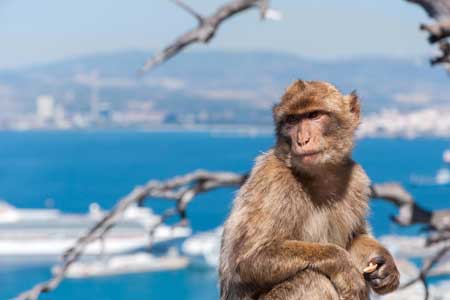 British overseas territory, Gibraltar, on Spain's south coast is dominated by a 426m-high limestone ridge: The Rock. The Rock of Gibraltar is a sentinel that guards the Straits, and the overtly-British town nestled between the European and African continents. Its atmosphere is all the more familiar due to its helmeted policemen, red pillar boxes, fish and chip shops, traditional pubs and Marks & Spencer shops.[ReadMoreMob]
Layers of fortifications on The Rock include the remains of a 14th-century Moorish Castle and the 18th century Great Siege Tunnels. The Europa Point Lighthouse and St. Michael's limestone cave light show are both well worth seeking out.
Resolutely British for nearly 300 years, Gibraltar's unique history is of interest but it's the camera-loving Barbary Apes that tend to steal the show.
Top Experiences
The Rock
The towering limestone Rock of Gibraltar stands approximately 426 metres (1,400 feet) high. The Upper Rock area is home to a nature reserve and over 200 Barbary macaque apes, along with St Michael's Cave and the Great Siege Tunnels. Enjoy a cable car ride up to the top of the Rock and admire the breathtaking panoramas.
St Michael's Cave
The magnificent St Michael's Cave comprises a network of approximately limestone caves, burrowed underneath and within the iconic Rock of Gibraltar. This natural wonder is one of Gibraltar's top attractions, with visitors flocking to see the caves' unusually-shaped stalagmites and stalactites.
Great Siege Tunnels
Also known as the Upper Galleries, this maze of tunnels was excavated into the Rock of Gibraltar during the Great Siege of 1779-1783. An amazing feat of both engineering and human effort, the tunnels were dug out using hammers, chisels, shovels and blasting powder. During World War II, Royal Engineers added more than 30 miles of tunnels to this complex.