Search frequently asked questions
What's the dress code on board?
Packing for your cruise holiday with Fred. Olsen is simple. The dress code is designed to ensure you feel relaxed and comfortable during your days and evenings on board, as well as your time ashore. This handy guide will help you decide what to pack for your cruise holiday.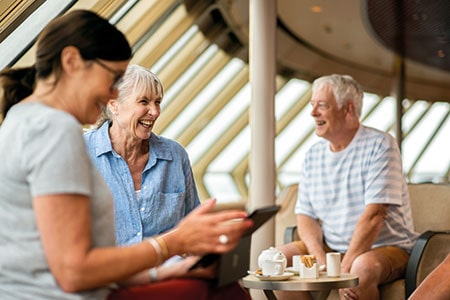 Whether enjoying the sea views from the deck, or participating in the many activities available, we want you to feel at ease. Casual wear is perfectly acceptable for your days on board with many guests opting for shorts and a T-shirt or polo shirt while cruising in sunny climes, and a pair of light-weight trousers and a sweater or jacket for cooler daytime temperatures. [ReadMore]
Whilst on deck, bathing suits are a must to ensure you can make the most of the pools and Jacuzzis on board. A pair of flip flops or sandals are advisable as the decks can sometimes get very warm (please take care, as the decks can be slippery too). A T-shirt and casual shorts is often preferred for lounging by the pool. Don't forget your hat, sunglasses and sun cream, as the sun can be a lot stronger at sea.
Ashore
The weather can vary greatly depending on your destination and the time of year you cruise. For warm weather destinations like the Canaries, Mediterranean and the Caribbean, typical summertime wear such as T-shirts, shorts or swimwear are fine. For Shore Tours that include visits to churches, museums or cathedrals, it is advisable to dress a little more conservatively.[ReadMore]
For cruises to cooler destinations, a pair of trousers, a jumper or jacket and a raincoat are recommended, as the weather can be changeable.
Whichever type of cruise you choose to embark on, a pair of comfortable walking shoes is strongly recommended to explore some of the fabulous destinations you will be visiting in comfort.
Evening wear is simple on a Fred. Olsen cruise; most evenings are Smart Casual with a Formal Night or two providing the chance to dress up. And just to add some fun to the cruise, there may also be some optional Theme Nights on longer sailings.
Smart Casual Evenings
Most evenings on board have a smart casual dress code. Dresses and skirts or a pair of trousers, chinos or dark jeans, [ReadMore] coupled with a polo shirt, shirt or blouse. Some guests opt to wear a jacket and tie too, but the choice is yours.
Formal Evenings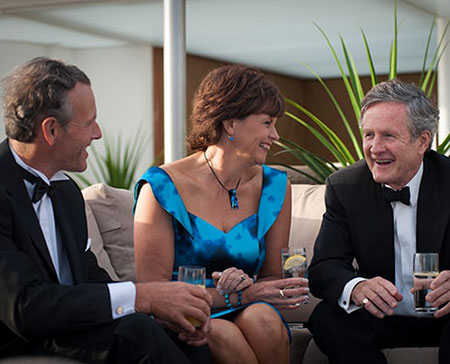 Cruises of six nights or longer will have at least one Formal Evening - this is your chance to 'dress to impress' and add glitz and [ReadMore]glamour to your dining experience.
Most men opt to wear either a dinner jacket, or dark suit and tie. Ladies are often seen looking fabulous in dresses, gowns, evening suits or a sparkly top with smart trousers or a skirt.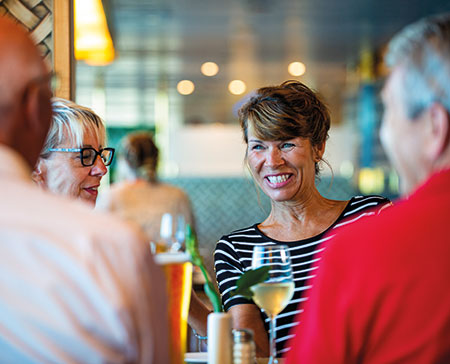 On any evening, you have the option to dine in our buffet restaurant. While we request that guests dress appropriately – [ReadMore]avoiding swimwear and loungewear – this option offers a casual dress code for a more relaxed dining experience at a time that suits you.
Thank you for your feedback