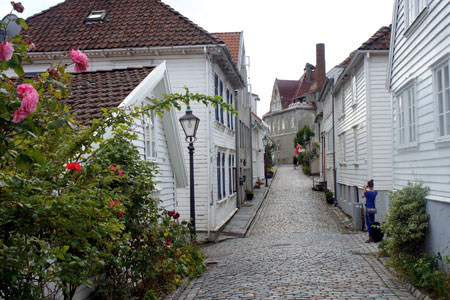 Behind the bustle of the prosperous and cosmopolitan Stavanger of today lie 1,000 years of ancient seafaring tradition and history. This vibrant, exciting Norwegian city oozes charm and was awarded the prestigious title of 'European Capital of Culture' in 2008.
The city's wealth and thriving oil industry has prompted its tag as Norway's 'Oil Capital', but Stavanger has remained as charming as ever. The old town, Gamle Stavanger, has narrow winding streets and ancient wooden houses gathered round an historic fresh fish and vegetable market.[ReadMoreMob] Stavanger is also a university city, which is reflected in the city's lively, urban atmosphere, and in the varied assortment of shopping and dining experiences.
The Norwegian Petroleum Museum exhibits drilling equipment, a model oil platform, submersibles and audio-visual shows, while the city's Herring Canning Museum celebrates one of Stavanger's earlier sources [ReadMoreDesk]of wealth. Beyond the town, the Three Swords monument commemorates the 9th century battle of Hafrsfjord – the moment Harald Hårfagre became the first King of Norway.
Stavanger is also perfectly placed for the breath-taking Lysefjord, one of the most famous Norwegian Fjords. This stunning waterway is home to the Kjerag Mountain and Preikestolen (The Pulpit Rock) – two of the country's most popular attractions.
Top Experiences
Old Town of Stavanger
Old Stavanger is a cluster of 173 small, white wooden houses built some 200 years ago. It is a national heritage area and is also where the Norwegian Canning Museum is located.