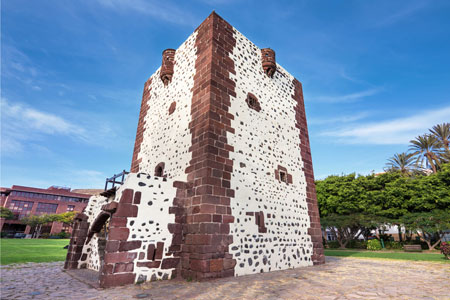 San Sebastian is the beautiful capital of La Gomera, one of the smaller, lesser-known islands in the Canaries. A lively, vibrant city, San Sebastian offers much to enjoy including pristine beaches, perfectly-preserved historic buildings and natural parks of jaw-dropping beauty.
Also known as 'Isla Colombina' because of its historic links to Christopher Columbus – the great explorer called at La Gomera on his way to America.[ReadMoreMob] Many of San Sebastian's buildings and monuments are linked to him, including the Casa de la Agunada and the Casa de Colon where, according to legend, Columbus stayed during his time on the island.
The 15th century Torre del Conde military tower and Ermita de San Sebastian Church, which dates back to the 16th century, are easily accessible highlights. The Church of the Assumption has a mural depicting an 18th-century battle, while La Gomera Archaeological Museum traces the local culture through artefacts and scale models. [ReadMore]
The city's beaches are typically Canarian and benefit from a fantastic warm climate almost all-year round, soft sands and crystal clear waters. Playa de La Cueva – often referred to as La Gomera's best beach, is a great place to relax.
Northwest of the city lies the Parque Natural de Majona, a beautiful natural park smothered with rolling valleys, stunning flora and dry Fayal-Heath, creates an incredible landscape that's a joy to explore.
Top Experiences
Links to Fred. Olsen
The Fred. Olsen Group has historical links to the Canary Islands, having had operations here since 1904. In Gomera, you will find a road named Paseo Fred Olsen, a ferry service, and a family-owned hotel - Hotel Jardin Tecina.
Landscape
While much of La Gomera is rocky and mountainous, the island is also home to lush valleys, palm trees, banana plantations, black sand beaches, forests and even a tropical
jungle in the Garajonay National Park. La Gomera has been declared a UNESCO Biosphere Reserve.
Christopher Columbus
Columbus and his crews used this island as a port of call on their voyages both to India and to Central and South America.
Cruises to San Sebastian
Departs: Southampton • Tue 03 Mar 2020
14 nights • Black Watch • W2006
As Black Watch guides you between gorgeous destinations, you'll learn of Fred. Olsen historical links to the Canary Islands with chances to visit attractions owned by the Olsen family and find out about Fred. Olsen's influential role in the Canaries' thriving export trade.
Highlights include the Olsen family-owned Hotel Jardin Tecina in La Gomera and the mysterious Pyramids of Güímar in Tenerife. You could also learn about how Fred. Olsen developed the Banana trade between Tenerife and London's Canary Wharf.
Indulge in pure relaxation and rewarding exploration too – you can delight in the volcanic wonders of La Palma and Lanzarote; relax at the rolling sand dunes of Masapalomas in sun-soaked Gran Canaria; and immerse yourself in the springtime sights and scents of Madeira's beautiful botanical gardens.
From £1,099pp
Fares Explained
|
What's Included
Departs: Southampton • Tue 22 Dec 2020
15 nights • Balmoral • L2033
Sailing to the gorgeous, sun-kissed islands of the Canaries and Madeira to uncover a seemingly endless list of highlights, you'll experience a magical, memorable and laidback festive season.
Spend Christmas at sea, indulging with delicious food, festivity and fantastic entertainment; then enjoy a relaxing and rewarding Boxing Day exploring the scenic trails and floral gardens of Madeira.
In the Canaries, visits to four spectacular destinations renowned for their year-round warmth, breathtaking beaches and volcanic landscapes culminates with a spectacular New Year's celebration in Tenerife.
From £2,299pp
Fares Explained
|
What's Included