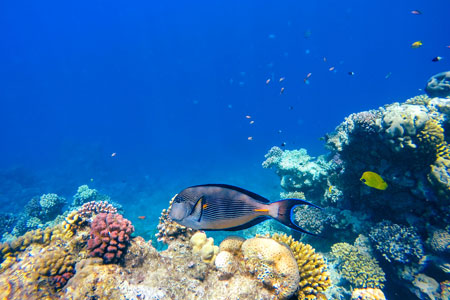 The Egyptian town of Safaga on the Red Sea offers crystal-clear waters and black-sand beaches that are popular with divers, windsurfers and sun worshippers. For a glimpse into Egypt's ancient past, the majestic temples of Luxor and Karnak, and the historic Valley of the Kings, are in easy reach.
Safaga's clear serene waters hypnotise with its multitude of tuna, sharks and manta rays often seen around the towering reefs of Abu Qifan. The sea here is very saline, rich in minerals and is said to have curative properties.
Safaga is the popular gateway for exploration of the Eastern Desert and the granite quarries of Mons Claudianus. The network of tombs at the captivating Valley of the Kings, and all the mystique of the Pharaohs, await on tours from this sultry port.
Destination Highlights
Valley of the Kings
The remarkable Valley of the Kings is one of the most famous architectural sites in the world, and is a must-see for anyone visiting Egypt. Over a period of almost 500 years, tombs were constructed here for the Pharaohs and nobles of the New Kingdom. Potentially hundreds were carved into the desert rocks, intricately painted with various mineral and stone dyes. To date, 62 tombs have been discovered here, including the most famous of them all – that of Tutankhamun.
Temple of Karnak
Karnak is one of the largest temple complexes in the world, and one of Egypt's top attractions. Dating back as early as 2000 BC, and built by generations of Pharaohs, it is home to over 100 acres of Pylons, hypostyle halls and sacred buildings – a scale that surpasses all other temple complexes in the entire ancient world.
Luxor Temple
Situated on the east bank of the River Nile, the Temple of Luxor is dedicated to Amun-Ra – King of the Gods, his consort Mut and their sons. Construction on this temple began in around 1400 BC by King Amenhotep III, and it was subsequently added to by Tutankhamun, Horemheb and Ramses II. The main entrance of the temple originally boasted six magnificent statues of Ramesses, however only two seated statues have survived along with a tall granite obelisk (another was taken to Paris, where it today stands at Place de la Concorde).