Read More
Latest Coronavirus information for this port
Updated: 27/06/22 at 10:51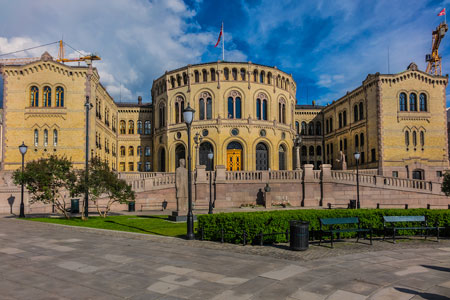 Oslo, the capital and largest city of Norway, is one of Scandinavia's most historic, interesting and welcoming destinations. Surrounded by mountains and its own fjord, this compact and cultured city is both easy and fun to explore on foot.
Oslo's two most famous sons, Edvard Munch and Henrik Ibsen, are celebrated across the city – all part of the contemporary cultural experience. The National Gallery is home to Edvard Munch's iconic 'The Scream', along with works by other European artists from Manet to Picasso, and the Munchmuseet contains over 5,000 works that Munch left to the city of Oslo.[ReadMoreMob]
Exploring one of Oslo's many museums, uncovering its booming art scene at any number of its commercial galleries or simply marvelling at the extraordinary architecture that fills the skyline are all highlights of this fine city. The fabulous Viking Ship Museum has three ships recovered from royal burial mounds in the Oslofjord, while the medieval Akershus Castle that dominates the harbour front is well worth visiting. Vigelandsparken Sculpture Park – one of Oslo's must-visit attractions, is a Norwegian institution and home to more than 200 bronze, granite and wrought iron sculptures from Gustav Vigeland. [ReadMore]
Oslo is an overwhelmingly green city. It was awarded European Green Capital for 2019, and boasts one of the lowest carbon footprints in the world. The city has excellent public transport, and the city planning has put pedestrians first. Most noticeable in the city, is Oslo's commitment to sustainable food production and green space. From hotdogs to Michelin-starred restaurants, the dining is always of a high-quality, as is the city nightlife.
Outside of the city centre, the stunning natural landscapes of the Oslomarka and Oslofjord await discovery. The Oslomarka – the vast forests around Oslo, has lush green valleys and diverse fauna such as lynx, beaver, Eurasian elk and deer, while the impressive, photogenic Oslofjord stretches over 120 kilometres.
Top Experiences
Vigeland Sculpture Park
Discover the life work of sculptor Gustav Vigeland, boasting more than 200 unique sculptures which are located around the park, all of which are made from bronze, granite and cast iron. Among them you will find the Little Angry Boy – which is the most famous sculpture located in the park. From inside the park you can look down onto Oslo below and you will see why it is a popular recreation area.
Munch Museum
Oslo is the city where Munch grew up and started out as an artist, and is now home to a large collection of Munch's paintings, drawings and prints, including his best-known masterpieces. Oslo is, in other words, the perfect destination for anyone interested in the art and life of Edvard Munch, and a visit to Oslo is a unique opportunity to get to know one of the greatest artists of modern times.
Architecture
Oslo city hall has been decorated with great Norwegian art from 1900-1950. The Royal Palace is an impressive Neoclassical building adorned with beautiful stucco work.