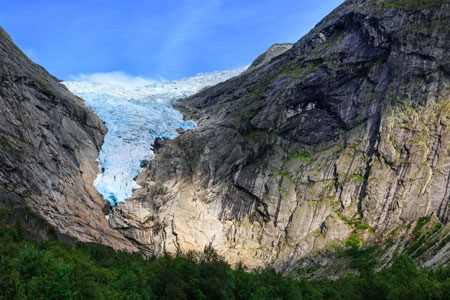 At its eastern end, the magnificent Nordfjord divides into three arms beneath the glaciers of the Jostedalsbreen, and Olden sits at the beginning of the southernmost of these arms. A charming village, Olden is among green meadows which are ablaze with colourful flowers throughout the summer, and through which babbling brooks meander between pretty houses.
In the centre of the village is the Old Church, built in 1759 on the site of a 14th century stave church: the timber was used for the pew doors and doorposts. Near the church is the Singerheimen, the former home of William Henry Singer Jr, an heir to a steelworks in Pittsburgh, who lived in Olden between 1868-1943 and donated large amounts of his wealth to fund the building of local hospitals and roads here. [ReadMoreMob] Singer was also a gifted amateur artist, and some of his paintings the Olden area can be seen in his workshop. [ReadMore]
The beautiful Oldedalen Valley extends for 12 miles behind Olden and is an absolute joy to explore. On an adventure into the valley you can marvel at huge, near-vertical cliffs, a string of spectacular waterfalls and glaciers, such as the Briksdal.
Top Experiences
Jostedalsbreen Glacier
Guests from all over the world come to visit this famous glacier arm set attractively between roaring waterfalls and high peaks. Briksdalsbreen is an arm of the great Jostedalsbreen Glacier, and located inside the Jostedalsbreen National Park. From 1200 metres, the glacier plunges down into the beautiful Briksdalen Valley.
Loen Skylift
Loen Skylift will bring you from the fjord to the top of Mt. Hoven in only five minutes. Loen Skylift is one of the steepest cable cars in the world, and offers a breathtaking and unforgettable view of the Norwegian fjord landscape. After five to seven minutes, you will arrive at the Mountain Station, and Hoven Restaurant where you will have a 210-degree panoramic view overlooking Mt. Skåla and Lake Lovatnet in the east, Jostedalsbreen Glacier and Olden in the south, and the Nordfjord that winds its way towards Stryn in the west.