Leknes, one of the first ports inside the Arctic Circle, looks out over the stunning Lofoten Islands, which are rich in Viking history and Arctic nature. The wild landscape of jagged peaks, cliffs and bright-white sandy beaches makes the area one of the most picturesque in Norway.
The nearby village of Borg is home to a Viking museum, based on one of the largest buildings of the Viking era that has ever been discovered.[ReadMoreMob] The museum is very much alive: partly lit by oil lamps, it has exhibits of gold fertility figures, pottery, and glassware and regular displays of handicrafts. In the outside area are domestic animals, many of which are ancient breeds that were raised by the Vikings.
Top Experiences
Scenic Leknes
Leknes and the Lofoten Islands have some of the most striking scenery in Norway, combining mountains and cliffs with lush-green landscapes.
Beaches
Typically, the words Arctic and beach are not typically mentioned in the same sentence, however, on the Lofoten islands there are perhaps some of the most spectacular beaches you will ever see.
Cruises to Leknes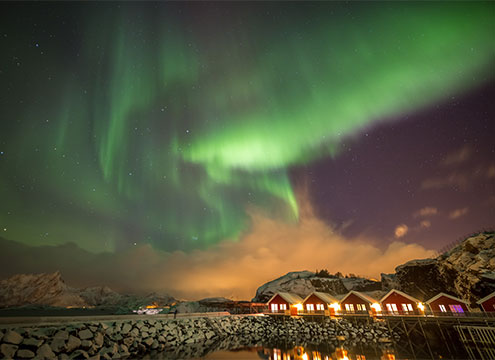 Departs: Newcastle • Wed 24 Mar 2021
8 nights • Balmoral • L2108
Be captivated from start to finish on a very special, shorter-than-usual exploration of Northern Norway, as you unearth an abundance of Arctic attractions with visits Leknes, Tromsø and Bodø.
Experience the unerring quiet and beauty of Arctic wildness on authentic husky sledding tours; marvel at the picture-perfect landscapes of the Lofoten Islands; visit the iconic Arctic Cathedral; and much more.
In between your time ashore, you'll spend unforgettable evenings on board Balmoral seeking out the awe-inspiring Aurora Borealis, Mother Nature's spectacular, multi-coloured light show.
From £999pp
Fares Explained
|
What's Included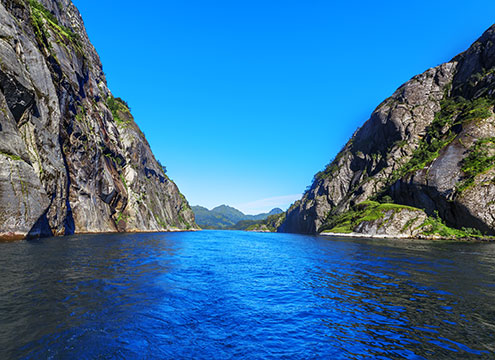 Departs: Newcastle • Fri 20 Aug 2021
9 nights • Balmoral • L2126
From both on board Balmoral and during memorable explorations ashore, you'll uncover astonishing sights and experiences amongst the rarely sailed fjords of Northern Norway.
Feel as if you can touch the mountainsides of astonishing Trollfjord; see the awe-inspiring scenery of Meløy's Nordfjord; marvel at the mighty Black Glacier; and much more.
You can immerse yourself in the rugged beauty of the Lofoten Islands and Bodo; take in Tromsø's many must-visit attractions; and ride the spectacular Rauma Railway from Åndalsnes.
From £1,399pp
Fares Explained
|
What's Included