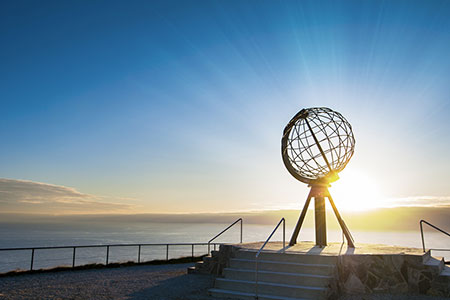 Honningsvåg, on Norway's North Cape, a fishing community characterised by its charming, pastel-shaded wooden buildings, attracts tourists from all over the world. Often referred to as the top of Europe, Honningsvåg is framed by dramatic rugged mountains and the remoteness of the Arctic Ocean.
Honningsvåg is the gateway to the Nordkapp (North Cape), Europe's most northernmost point. Its rocky coastlines, picturesque villages, endless cliff faces and vast snow-capped mountains are a joy to explore.[ReadMoreMob] For two months of summer, the sun is visible 24 hours a day from Nordkapp, and when the sun does set on this extraordinary landscape, the Aurora Borealis lights up the Polar sky. More on these wonderful seasonal changes can be experienced in the North Cape Hall visitor centre, which offers wide-screen film presentations about this Arctic region.
Honningsvåg was completely destroyed during the Second World War, but rapidly rebuilt. The Artico Ice Bar in the city centre – made entirely of ice sourced from the natural lakes of Norwegian Lapland – is worth a visit. While the sea views from the Kompasset Restaurant, and the freshly baked waffles of the Grotten Bar – a huge cave cut into the face of the Cape cliff, both need discovering.
Top Experiences
North Cape Plateau
A visit to Honningsvåg is not complete without a visit to the North Cape. For two months during the summer the sun is visible 24 hours a day at Nordkapp, so you can visit anytime, day or night, while at other times of the year – when the sun does set – it is possible to delight in the wonder of the Northern Lights. With astonishing examples of Norway's natural beauty, rocky coastlines, huge cliffs and tall mountains to admire too, so there is always a special experience to be had whenever you visit.