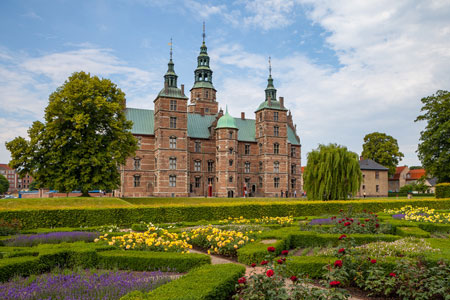 With its vibrant atmosphere, modern culture and beautiful architecture, Copenhagen is the essence of Scandinavian cool. One of Europe's oldest and most popular cities, Copenhagen is also one of the cleanest and most cosmopolitan. Its narrow streets are always busy with welcoming locals and are lined with colourful cafes, bars, shops and places to eat. Its bridges ring with cycling commuters and the pristine waterways make visiting this city a wonderful experience. [ReadMoreMob]
The historic centre of Denmark's capital, an 18th-century rococo district, is home to the Royal Family's Amalienborg Palace, Christiansborg Palace and Rosenborg Castle, surrounded by gardens and home to the crown jewels. The Little Mermaid sculpture at Langelinje Pier is a must-visit attraction too.
Nyhavn – Copenhagen's 17th century waterfront and canal – is home to a number of wooden ships and many brightly coloured 17th and 18th century townhouses that have been converted into bars and restaurants.
Destination Highlights
The Little Mermaid - Copenhagen
The iconic statue symbolises the city of Copenhagen. It's based on the fairy-tale by Hans Christian Andersen, where a beautiful young mermaid is willing to give up her identity as a mermaid and her life in the sea to gain a human soul and marry the prince she saved and fell in love with. Made by sculptor Edvard Eriksen it had its unveiling in 1913, and she's sat on her rock ever since. She has become one of Copenhagen's must see landmarks. We have a selection of tours which will all take in her beauty – including our City & Harbour Tour, Tour D, which will allow you to see her from the water.
Tivoli Gardens
Opened in 1843, Tivoli Gardens is the second-oldest operating amusement park in the world. Tivoli's dreamy mix of rides, twinkling pavilions, carnival games and open-air stage shows delights every visitor. You can ride the renovated, century-old roller coaster, enjoy the famous Saturday evening fireworks display or simply explore the variety of gardens within the grounds that include water fountains, an orangery and a bamboo forest.
Monarchy of Denmark: Palaces and Castles
You can experience Copenhagen's rich, royal history at Amalienborg Palace's museum, home of the Danish Royal Family. You will sense the presence of the world's oldest monarchy from the Palace Square where the changing of the guards takes place at 12pm every day. Christiansborg Palace is the seat of the Danish Parliament, Folketinget, the Supreme Court, and the Ministry of State. The palace tells a 1000-yearold story of the city and invites visitors inside the royal apartments, where the Queen's tapestries can be found. At Rosenburg Castle you will discover 400 years of splendour, royal art treasures and the Crown Jewels and Royal Regalia. The magnificent King's Garden are the country's oldest royal gardens, established in the Renaissance style by Christian IV in the early 1600's.