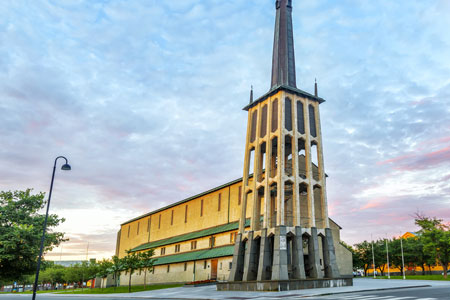 The charming town of Bodø is the northernmost point on the stunning Kystriksveien Coastal Route and home to the world's strongest maelstrom, Saltstraumen. The port represents the northern terminus of Norway's railway system, and is ideal for year round bird spotting as it boasts the world's densest population of sea eagles.
The curious experience of the midnight sun from the summit of Mount Ronvikfjellet is a sight to behold, while strolling along Bodø's chalk-white beach, or enjoying some shopping in the bustling town centre, are popular pastimes. [ReadMoreMob]
The majestic stained-glass windows and delicate tapestries within Bodø Cathedral make for a particularly worthwhile trip. Bodø's historic past can be uncovered by visiting one of the town's museums, and the Aviation Museum offers a glimpse into Norway's aviation history. Exhibits include famous aircraft such as the Supermarine Spitfire, Tiger Moth and F-86 Sabre.
Top Experiences
Saltstraumen
Possibly the strongest tidal current in the world, 400 million ­cubic metres of water surge through this channel with every tide, reaching speeds up to 20 knots and forming huge maelstroms.