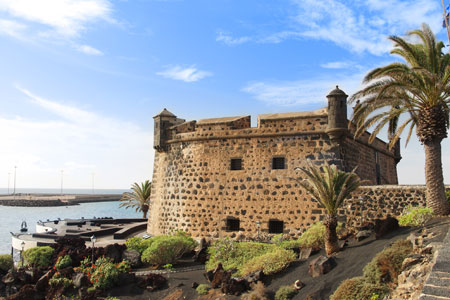 The bustling port of Arrecife on Lanzarote's east coast is home to the biggest fishing fleet in the Canaries. Back in the 16th and 17th centuries the city was regularly attacked by pirates. To defend against these raiders, the court of Spain ordered two castles to be built. The first built in 1590, Castillo San Gabriel, now houses the island's Ethnographic Museum, which tells the fascinating story of the islands' original inhabitants: the Guanche. [ReadMoreMob]
Castillo San Jose followed later, providing employment and alleviating poverty on the island following volcanic eruptions in the 1730s - it became known as the Fortress of Hunger. Today, it is home to the Museum of International and Contemporary Art, with a small but impressive collection of modern paintings and sculpture. The excellent restaurant in its basement offers diners panoramic views over the harbour. Today, Arrecife is a quirky hotchpotch of sun-bleached buildings and has a pleasant Mediterranean-style promenade.
Top Experiences
Lanzarote Volcanoes
The volcanic terrain of the Timanfaya National Park covers over 12,600 acres of land. It was once home to the village of Timanfaya before being submerged by lava by one of the worst volcanic eruptions ever seen. Today you can still see steaming mounds of volcanic tuff and potent sources of geothermal energy caused by the residual magma chamber, volcanic cones in multitude of red, orange, yellow and blue colours, as well as fascinating rock formations.
César Manrique
Featuring over 1,000 species of cacti from all over the world, including America and Africa, the Manrique Cactus Gardens was one of the Lanzarote's famous architect
César Manrique's last works. Manrique is an internationally renowned artist, who created the visual aspect of the island as it can be seen today. Constructed on a quarry of volcanic ash extraction, the cactus garden sits within a stone enclosure with terraces and offers a stunning background for these unusual plants.
Jameos del Agua
One of Lanzarote's top attractions, Jameos del Agua is a fascinating combination of geology, architecture and design. The unusual volcanic formation is a result of a tube being formed by molten lava streaming down to the sea, then cooling and partially breaking up. This natural rock formation has now been made into an amazing auditorium with winding pathways, spiral stairs, tranquil gardens of palm trees and tropical flowers, an underground lake and a vibrant pool of crystal blue water, all designed by the famous architect César Manrique.